Research article

Open Access

Open Peer Review
This article has Open Peer Review reports available.
Use of cluster-graphs from spoligotyping data to study genotype similarities and a comparison of three indices to quantify recent tuberculosis transmission among culture positive cases in French Guiana during a eight year period
BMC Infectious Diseases
2008
8:46
Received: 06 November 2007
Accepted: 14 April 2008
Published: 14 April 2008
Abstract
Background
French Guiana has the highest tuberculosis (TB) burden among all French departments, with a strong increase in the TB incidence over the last few years. It is now uncertain how best to explain this incidence. The objective of this study was to compare three different methods evaluating the extent of recent TB transmission in French Guiana.
Methods
We conducted a population-based molecular epidemiology study of tuberculosis in French Guiana based on culture-positive TB strains (1996 to 2003, n = 344) to define molecular relatedness between isolates, i.e. potential transmission events. Phylogenetic relationships were inferred by comparing two methods: a "cluster-graph" method based on spoligotyping results, and a minimum spanning tree method based on both spoligotyping and variable number of tandem DNA repeats (VNTR). Furthermore, three indices attempting to reflect the extent of recent TB transmission (RTIn, RTIn-1 and TMI) were compared.
Results
Molecular analyses showed a total amount of 120 different spoligotyping patterns and 273 clinical isolates (79.4%) that were grouped in 49 clusters. The comparison of spoligotypes from French Guiana with an international spoligotype database (SpolDB4) showed that the majority of isolates belonged to major clades of M. tuberculosis (Haarlem, 22.6%; Latin American-Mediterranean, 23.3%; and T, 32.6%). Indices designed to quantify transmission of tuberculosis gave the following values: RTIn = 0.794, RTIn-1 = 0.651, and TMI = 0.146.
Conclusion
Our data showed a high number of Mycobacterium tuberculosis clusters, suggesting a high level of recent TB transmission, nonetheless an estimation of transmission rate taking into account cluster size and mutation rate of genetic markers showed a low ongoing transmission rate (14.6%). Our results indicate an endemic mode of TB transmission in French Guiana, with both resurgence of old spatially restricted genotypes, and a significant importation of new TB genotypes by migration of TB infected persons from neighgouring high-incidence countries.
Keywords
Tuberculosis
Minimum Span Tree
Single Mutation Step
Recent Transmission
Minimum Span Tree Method
Background
The resurgence of human tuberculosis (TB) in many industrialized countries in the late 1980s and early 1990s [1] has focused critical attention on a disease that was thought to be under control, and as such, has been neglected for too long. Effective prevention and control of Mycobacterium tuberculosis, the causative agent of TB, must be based on a clear understanding of how the disease is transmitted, how infection becomes established, and how infection progresses to clinical disease. This has motivated investigations on TB transmission among persons at higher risk, such as the homeless [2, 3] or HIV-infected persons [4, 5]. Furthermore, the improvement of molecular techniques to characterize Mycobacterium strains, especially M. tuberculosis, and the concomitant accumulation of epidemiological data over large spatial scales has increased the possibility to trace transmission routes of Mycobacterium outbreaks (e.g. M. leprae in [6]). The identification of M. tuberculosis strains can be used to identify patients which have some apparently identical genotypes, thus potentially associated to a same source of contamination [7] and designated as «clustered cases» [8, 9]. The existence of genetic clusters is thought to be indicative of recent TB transmission [10, 11], in opposition to cases arising either from imports or from reactivation of latent infection. Featuring epidemiological links between patients allow inferences about the level of ongoing TB transmission, thus the level of epidemicity/endemicity of the infection in a defined geographical area, and underline some potential risk factors associated to the disease [12]. For example, when an unusual number of TB cases occurs over time, it is possible to do early molecular analyses to determine whether this cluster of cases represents temporal coincidence, or a genetic cluster due to a local chain of transmission. If fingerprinting demonstrates different strains, the cases are not due to transmission, and there is no need for further epidemiological evaluation.
The underlined hypothesis of the use of molecular information for the evaluation of ongoing transmission is that mutations are slower than transmission rate [13], which is not true for all genetic markers. A large number of molecular methods are available for the characterization of infra-specific M. tuberculosis strains. Nonetheless the choice of a method strongly affects the results, as low mutation rates tend to less discriminate the genetic differences, whereas high mutation rates tend to increase the number of clusters considered [14]. This article investigates the genotypic diversity of M. tuberculosis strains isolated in French Guiana over the 1996–2003 period, characterized by two molecular methods, and attempts to determine potential transmission between infected persons. We used a recent method proposed by Tanaka & Francis [14] to visualise molecular epidemiological data, i.e. cluster-graphs, which also provides a framework for evaluating ongoing transmission. We also compared the method used to previous indices attempting to reflect the extent of recent TB transmission.
Results
Molecular typing results
The spoligotyping was performed as a first-line screening method on 344 M. tuberculosis clinical isolates from patients living in French Guiana, followed by VNTR performed on 273 clustered isolates. Among the 344 typed isolates, spoligotyping generated 49 clustered patterns totalling 273 isolates (with 2 to 48 patients per cluster), 25 true orphan patterns, and 46 pseudo-orphans, i.e. patterns already found in SpolDB4 but present as single in this study, with a total amount of 120 different patterns. Analysis of the frequency of major spoligotypes with SpolDB4 allowed a differentiation between ubiquitous types present in all the continents and types more specific to French Guiana. Several types were endemic in French Guiana (i.e. ST 66, 76, 94, 1084, 1340, 1526 and 25 orphan isolates), representing 25.8% of the shared-types, and 12.2% of the total isolates. Ubiquitous types represent 40.8% of the 120 individual patterns, i.e. 70.6% of the isolates.
Among the 49 clusters, we found 34 minor spoligotypes (including two to four isolates), and 15 major spoligotypes (five or more isolates). ST 66, 72, 385, 958, 1337, 1339, 1340, 1486, 1762, 1763, and 1935 are over-represented in French Guiana,
i.e.
they represents more than 50% of total number of isolates associated to these STs within the international spoligotype database SpolDB4. When spoligotypes were subtyped by VNTRs-excluding 14 isolates for which at least one VNTR failed – the number of cases per cluster decreased whereas the number of clusters slightly increased (52 clusters). Moreover, 17 spoligotype clusters on 49 were non-polymorphic for VNTR,
i.e.
all cases of a same spoligotype cluster shared the same VNTR profile. The main results of the molecular typing analysis are summarized on Table
1
and Figure
2
. If we examine VNTR results of the five largest spoligotype clusters (including ten to forty-eight isolates), they were subdivided in 21 clusters (including two to twenty-four isolates) and 14 individual patterns (see Table
2
for details).
Table 1
Number and frequencies of isolates clustered by spoligotyping alone and further subtyped by VNTRs.
| | Isolates clustered by spoligotyping | Isolates clustered by spoligotyping and VNTR |
| --- | --- | --- |
| Total number of isolates studied | 344 | 339 |
| Number of clusters | 49 | 52 |
| Mean number of isolates per cluster | 5.57 | 3.90 |
| Number of clustered isolates (and %) | 273 (79.4%) | 203 (59.9%) |
| Number of unclustered isolates (and %) | 71 (20.6%) | 127 (37.5%) |
Table 2
Detailed results of clustering for the five largest spoligotype clusters with combined spoligotyping – 5 VNTR loci genotyping.
| Spoligotype | N | Number of different VNTR | Number of isolates/cluster | Individual patterns |
| --- | --- | --- | --- | --- |
| ST 53 | 39 | 14 | 6, 5, 5, 4, 4, 3, 2, 2, 2, 2 | 4 |
| ST 50 | 42 | 8 | 24, 7, 4, 2, 2 | 3 |
| ST 42 | 10 | 7 | 3, 2 | 5 |
| ST 64 | 13 | 4 | 9, 2 | 2 |
| ST 02 | 15 | 2 | 11,4 | 0 |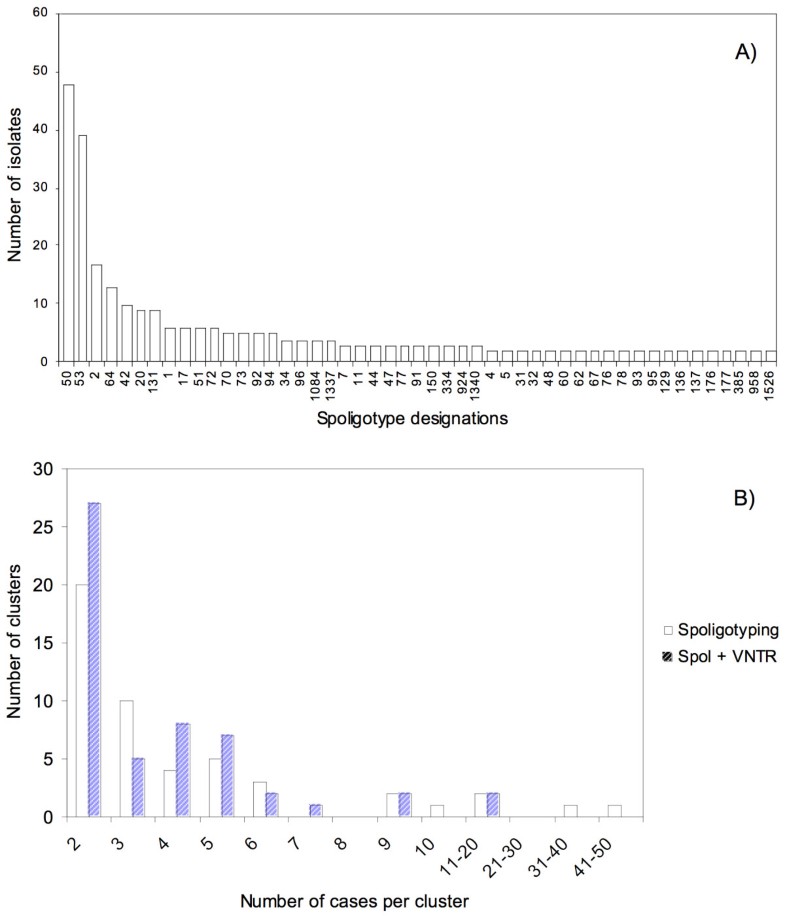 Phylogeographic analysis
Isolates of the T family predominated in our study (32.6% of all isolates, 31.7% of all STs). The second major clade was the LAM family (23.3% of all isolates, 27.5% of all STs) followed by the Haarlem family (22.6% of all isolates, 10% of all STs), the EAI family (12.2% of all isolates, 20% of all STs) and finally the X family (5.8% of all isolates, 6.7% of all STs). Other families (
M. africanum
, Beijing, S) were under-represented in our setting. Figure
3
illustrates the complete cluster-graph, with all the 120 different spoligotypes censused in French Guiana through 1996 to 2003. The different clades are represented with different colours, and the size of nodes is proportional to the corresponding cluster size,
i.e.
the number of isolates per cluster. The cluster-graph reveals the likely ancestral genotype of each clade. Some edges were missing to construct the complete cluster-graph and were added, unless they were not censused in French Guiana during our survey (29 spoligotypes added, for example ST 119, putative ancestor of the X superfamily). In comparison, Figure
4
represents the minimum spanning tree produced using the BioNumerics software. Combined numerical analysis of spoligotyping and VNTR data for all 344 isolates underlined at least three well-defined branches (called A, C, D) emerging from a central cluster called B. When considering each branch in detail, it can be shown that identified subgroups are most of the time not phylogenetically informative,
i.e.
isolates present in a branch are not family specific, except for branch D which is homogeneously constituted by LAM genotypes. Branch A contains genotypes from T, Haarlem, Beijing, LAM and X families; branch B shows genotypes from Haarlem, T, S and X families; and branch C contains genotypes from Haarlem, EAI, LAM, likely Haarlem and
M. africanum
.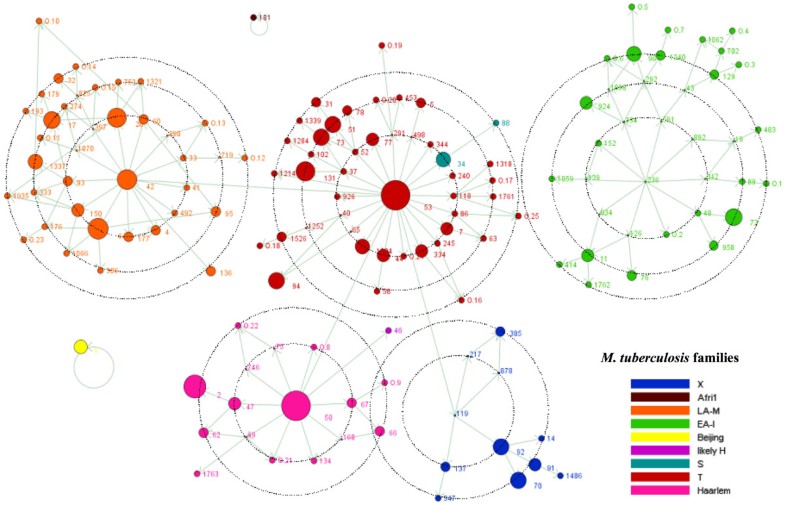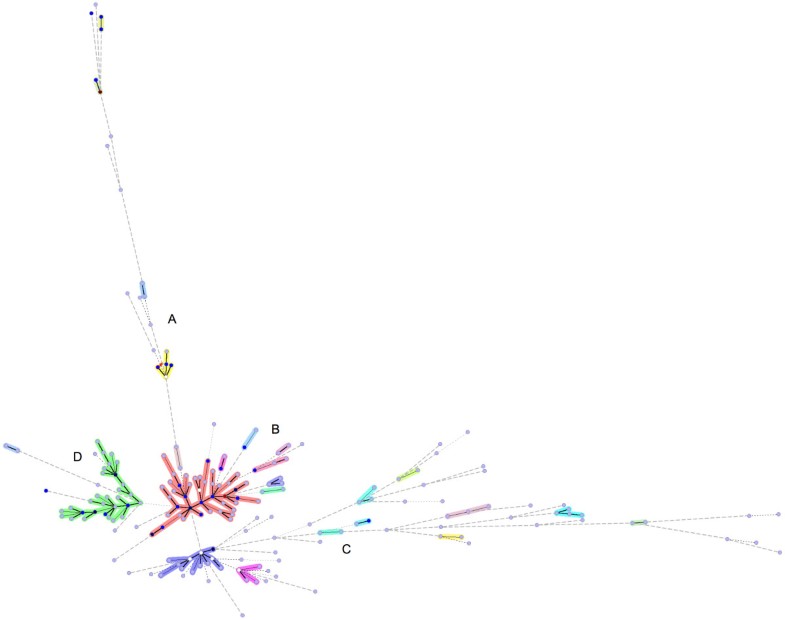 Estimation of transmission
Applying the indices previously described to our French Guiana data set gives the following values: RTIn = 0.794, RTIn-1 = 0.651, and TMI = 0.146, with n = 344 isolates, n c = 273 isolates in cluster, c = 49 clusters, g = 120 spoligotypes and v 1 = 82 edges involving a 1-step change. The number v 1 is equal to the number of genotypes g in the data set minus the number of connected components, which is calculated using the cluster-graph (Figure 3). The RTI values here are very high compared to the same statistic computed on spoligotypes data (TMI), which means a lower recent transmission rate evaluated with TMI method. This difference is further explained in the discussion.
Conclusion
Our results confirmed that the use of cluster-graphs from spoligotyping data to derive a TMI index provides more sensitive results than previous RTI indices in order to measure the severity of outbreaks. It allowed us to show an endemic mode of TB transmission in French Guiana associated to low local transmission of the disease, with both resurgence of old spatially restricted genotypes (endemic to French Guiana), and an importation of new TB genotypes by migration of TB infected people from high-incidence countries. Endemic genotypes might also be due, to a lower extent, to local mutation events. Those results highlight the need for specific strategies of TB control in this region, considering those new epidemiological hypotheses.
This study also suggested that our methods choice in order to get a clear picture of the TB snapshot in a high prevalence setting such as French Guiana was indeed suboptimal. Genotyping of pathogens is a fast moving field that also requires long-term experience and stability of methods to provide golden standards in molecular characterization. A decade of IS6110-RFLP predominance, has now been efficiently challenged by the power of the Multi Locus VNTR analysis (MLVA) approach, which has proven to be useful for many pathogens. Meanwhile, the spoligotyping approach, once thought to be not discriminative enough, has revealed to be an excellent long-term choice in TB genotyping, not only because it is cheap and robust, but also because the underlying role of the DR (a member of the CRISPR family of repeats) is now better understood [37], and because updated databases are regularly maintained. An ultimate player in this game, i.e. SNP genotyping, could become the most useful tool during the next decade [38, 39]. However, for the time-being, there is no emerging consensus on what is the best genotyping scheme to understand TB transmission based on molecular characterization of clinical isolates.
Availability and requirements
At the time of the matching analysis, the updated spolDB4 version contained 31,642 patterns distributed into 2,393 shared types in 114 countries (an online version of this database is now available at http://www.pasteur-guadeloupe.fr:8081/SITVITDemo/).
The genotypes present in French Guiana might have been introduced by successive arrivals of Hakka settlers from Taiwan, Singapour, Hong-Kong, Vietnam and continental China since 1820 http://www.tlfq.ulaval.ca/axl/amsudant/guyanefr2.htm, and more recently, by settlers from the Lao-Hmong community which arrived in French Guyana in 1977.
Declarations
Acknowledgements
VG acknowledges the French Ministry of Higher Education and Research for providing a Ph.D. fellowship. The research done at the Pasteur Institute of Guadeloupe benefited through a Ph.D. fellowship awarded to KB (partially financed by the European Social Funds provided through the Regional Council of Guadeloupe), and research grants awarded to NR by the International Network of the Pasteur Institutes, Direction of International Affairs, Institut Pasteur, Paris. JFG acknowledges the Institut de Recherche pour le Développement and the Centre National de la Recherche Scientifique for their financial, administrative and technical support. Thanks are due to Dr. Andrew Francis for its help on applying the method of cluster-graph to our data set and for very useful comments, and to Drs. P. Duval and B. Maubert (Pasteur Institute of French Guiana) for providing samples. We are also grateful to Drs. N. Quintard, B. Cottrelle, D. Louvel, B. Carme, J. Thonnon, R. Pradineau, G. Guillot, and A.-M. Bourbigot in French Guiana for their help during epidemiological investigations around clustered cases.
Authors' Affiliations
(1)
UMR 2724 IRD-CNRS, Génétique et Évolution des Maladies Infectieuses, Equipe Dynamique des Systèmes & Maladies Infectieuses, Montpellier Cedex 05, France
(2)
Unité de la Tuberculose et des Mycobactéries, Institut Pasteur de Guadeloupe, Abymes Cedex, Guadeloupe
(3)
Institut de Génétique et de Microbiologie UMR8621, CNRS, Université Paris-Sud 11, Orsay, France
(4)
Unité de Génétique Mycobactérienne, Institut Pasteur, Paris Cedex 15, France
(5)
Centre Hospitalier Universitaire, Route de Chauvel, Pointe-à-Pitre Cedex, Guadeloupe
Copyright
© Guernier et al; licensee BioMed Central Ltd. 2008
This article is published under license to BioMed Central Ltd. This is an Open Access article distributed under the terms of the Creative Commons Attribution License (http://creativecommons.org/licenses/by/2.0), which permits unrestricted use, distribution, and reproduction in any medium, provided the original work is properly cited.