Research article

Open Access

Open Peer Review
This article has Open Peer Review reports available.
Cerebrospinal fluid HIV infection and pleocytosis: Relation to systemic infection and antiretroviral treatment
BMC Infectious Diseases
2005
5:98
Received: 27 May 2005
Accepted: 02 November 2005
Published: 02 November 2005
Abstract
Background
Central nervous system (CNS) exposure to HIV is a universal facet of systemic infection. Because of its proximity to and shared barriers with the brain, cerebrospinal fluid (CSF) provides a useful window into and model of human CNS HIV infection.
Methods
Prospective study of the relationships of CSF to plasma HIV RNA, and the effects of: 1) progression of systemic infection, 2) CSF white blood cell (WBC) count, 3) antiretroviral therapy (ART), and 4) neurological performance. One hundred HIV-infected subjects were cross-sectionally studied, and 28 were followed longitudinally after initiating or changing ART.
Results
In cross-sectional analysis, HIV RNA levels were lower in CSF than plasma (median difference 1.30 log10 copies/mL). CSF HIV viral loads (VLs) correlated strongly with plasma VLs and CSF WBC counts. Higher CSF WBC counts associated with smaller differences between plasma and CSF HIV VL. CSF VL did not correlate with blood CD4 count, but CD4 counts <50 cells/μL associated with a low prevalence of CSF pleocytosis and large differences between plasma and CSF VL. CSF HIV RNA correlated neither with the severity of the AIDS dementia complex (ADC) nor abnormal quantitative neurological performance, although these measures were associated with depression of CD4 counts.
In subjects starting ART, those with lower CD4 counts had slower initial viral decay in CSF than in plasma. In all subjects, including five with persistent plasma viremia and four with new-onset ADC, CSF HIV eventually approached or reached the limit of viral detection and CSF pleocytosis resolved.
Conclusion
CSF HIV infection is common across the spectrum of infection and is directly related to CSF pleocytosis, though whether the latter is a response to or a contributing cause of CSF infection remains uncertain. Slowing in the rate of CSF response to ART compared to plasma as CD4 counts decline indicates a changing character of CSF infection with systemic immunological progression. Longer-term responses indicate that CSF infection generally responds well to ART, even in the face of systemic virological failure due to drug resistance. We present simple models to explain the differing relationships of CSF to plasma HIV in these settings.
Keywords
Structure Treatment InterruptionAutonomous Infection
Background
Frequent abnormalities in cerebrospinal fluid (CSF), including increased white blood cells (WBCs), were recognized early in the AIDS epidemic, not only in patients examined toward the end of their course who suffered neurological complications [1], but also in those systemically and neurologically asymptomatic [2, 3]. Indeed, these observations were among the first indicators that the central nervous system (CNS) is an early and common target of systemic HIV infection. While initial studies applying quantitative HIV RNA measurements to the CSF suggested correlation between the CSF HIV RNA (viral load, VL) and the AIDS dementia complex (ADC) [4], subsequent reports have shown that HIV can be found in the CSF throughout the course of infection, beginning with primary infection [5], and that other factors, including the progression of immune dysfunction, are likely important in the development of ADC [6–8]. This has raised the fundamental question of why HIV causes brain dysfunction, manifesting as ADC, only late in the course of infection and only in some individuals [9]. Additionally, because the brain and CSF are separated from the blood by barriers to the transfer of virus, immune defenses and antiviral drugs, there has been considerable concern as to whether local infection in these 'compartments' might be isolated from host defenses and antiviral therapy (ART), leading to both viral persistence and local selection of resistance [10–12]. While CSF and brain infections by HIV are not identical, examination of this easily sampled fluid provides a window into CNS infection [13].
In order to better interpret CSF findings, it is essential to understand what factors contribute to elevated CSF HIV RNA concentrations. How do systemic infection and its progressive damage to the immune system affect the VL in a non-lymphatic compartment like the CSF space? How does CSF infection respond to ART? What is the origin and importance of the CSF cell reaction detected as CSF lymphocytic pleocytosis and how does this cell reaction respond to ART? What is the effect of ART on neurological function in subjects presenting with ADC?
To address these questions and better understand the relationship of the CSF HIV RNA levels to other aspects of infection and clinical findings, we undertook a prospective study of CSF in a broad range of HIV-infected subjects using two complimentary approaches. The first involved cross-sectional analysis of a clinically diverse subject sample. The second longitudinally followed subjects initiating ART. In addition to its direct clinical implications, this longitudinal approach used treatment as an 'experimental' intervention to dissect dynamic aspects of the relationships among these study variables.
Methods
Subjects and Protocols
One-hundred subjects were entered into these studies between November, 1996 and June, 2001 in the context of protocols approved by the University of California, San Francisco (UCSF) Committee on Human Research (CHR); follow-up on a few continued until December 2004. Informed consent was obtained from all subjects. In the case of one subjects with ADC, consent was also obtained from his sister with durable power of attorney. Subjects were excluded if they suffered HIV-related or other active CNS diseases except ADC. The cross-sectional analysis targeted a total of 100 subjects, including the baseline observations of subjects starting treatment, along with a previously-reported group who stopped treatment [14, 15]. Subjects were clinically stable with the exception of six presenting with a new diagnosis or progression of ADC at the time of study entry.
Treatment decisions were independent of this CSF study. New therapies (either starting de novo or representing a change of drugs) were prescribed by subjects' primary care-giver or determined by another clinical trial. Exceptions were five subjects who entered an open-label study of high-dose abacavir (600 mg twice daily) which was completed before abacavir was licensed for clinical use [16, 17]. The first subject in this small protocol substituted abacavir for one of the drugs in his existing regimen, while the remaining subjects began this nucleoside reverse transcriptase inhibitor (nRTI) in the context of novel combination ART. Treatment protocols sought to enter subjects with and without ADC, and with plasma VLs ≥ 50,000 HIV RNA copies/mL (cpm), although exceptions were made to this virological entry criterion. Baseline lumbar punctures (LPs) were performed within one week before initiating ART and carried forward as time zero. Most subjects underwent their initial 4–5 LP on-drug studies during the first month, with later assessments at approximately 3 and 6–12 months and then one to three times yearly thereafter.
LP and CSF analysis
CSF was obtained for study purposes rather than for clinical diagnosis and was processed in standardized fashion as previously described [18, 14]. CSF and plasma from each visit were analyzed for HIV RNA concurrently. At the time of the first LP, CSF was also analyzed for neurosyphilis (VDRL) and cryptococcal antigen (all negative). CSF cell counts, differential, protein and albumin levels along with measurement of blood albumin and CD4+ and CD8+ T lymphocyte counts by flow cytometry were performed using routine clinical methods in the San Francisco General Clinical Laboratory.
Clinical evaluation
Each subject had a baseline clinical evaluation, which included a general and neurological assessment and medical history review; none had current or prior cryptococcal meningitis or any other opportunistic neurological disorder. If indicated by neurological symptoms or signs, subjects had neuroimaging studies to assess for confounding conditions. Subjects underwent a standardized, ADC-focused neurological evaluation leading to ADC diagnosis and staging [19–22]. Diagnosis of ADC conformed to criteria for the AIDS-related cognitive/motor complex outlined by the American Academy of Neurology Task Force [23]. In the presence of any static neurological condition that might interfere with designation of AIDS related cognitive or motor dysfunction (for example, prior head trauma or psychiatric diagnosis), no ADC scale was assigned. Subjects underwent brief quantitative performance testing with a battery of four tasks (timed gait, finger tapping with the dominant hand, grooved pegboard placement with the non-dominant hand, and Digit Symbol test from the WAIS-R) yielding a combined normalized score derived from the mean of individual Z-scores, the quantitative neurological performance Z-score on four tests (QNPZ-4 score), as previously described [24, 20, 22].
Virological methods
HIV RNA was measured in cell-free CSF and plasma by the Roche Amplicor Monitor assay (versions 1.0 and 1.5, Roche Diagnostic Systems, Inc., Branchburg, N.J) using the standard and Ultrasensitive extraction methods. The latter has a quantitation limit of 50 and a detection limit of approximately 20 HIV RNA cpm. We used results in the range of 20 – 50 cpm for data reporting and analysis, and assigned a default 'floor' value of 19 (log10 1.28) cpm for values below the detection limit. Concurrent paired CSF and plasma samples were treated identically and run at the same time. HIV RNA concentrations were transformed to log10 values for all analysis. Because limited serial sampling during the acute phase of treatment-induced viral decay precluded complex modeling, estimates of acute-phase HIV-RNA half-lives were derived by assuming simple exponential decay during an initial phase (days 0 – 11) as previously described [25]. While the acute phase of plasma viral decay is shorter than 11 days, we used this extended period for rough comparison because of the limited sampling in some subjects. The acute decay rate, λ, for each subject was estimated by least-square regression of measurement time (including baseline) on a subject's log10 HIV-RNA values. The subject's acute-phase HIV-RNA half-life was log102/λ.
Antiretroviral drug resistance
Antiretroviral drug resistance was assessed by both phenotypic and genotypic methods in selected subjects using the PhenoSense™ HIV assay (ViroLogic Inc., South San Francisco, CA) to analyze functional susceptibility in a recombinant assay and mutations in the reverse transcriptase (RT) and protease (PR) regions [26]. Phenotypic susceptibility results were reported as fold-change in the 50% inhibition concentration (IC50) relative to a wild-type virus reference standard, while genotypic analysis compared RT and PR sequences in the blood or CSF HIV populations to the reference wild-type (e.g., NL4-3).
Statistical analysis
Because of the skewed distributions of several study variables, unless otherwise indicated, the median and interquartile range (IQR; 25th percentile – 75th percentile) were used for descriptive statistics, and nonparametric tests were used for comparisons. In the cross-sectional analysis, all p-values were two-sided, with p-values < 0.01 considered significant. Statistics were performed using SPSS 11.5 (SPSS Inc., Chicago, IL), or Prism 4.0 (GraphPad Software Inc, San Diego, CA).
Results
Study subject demographics
Of the 100 subjects in the cross-sectional study, 65 were recruited into a
cross-sectional only
group and studied only once, 26 were in a
longitudinal treatment
group and were followed with serial LPs, and nine subjects were in a
longitudinal Structured Treatment Interruption
(STI)
group and are reported elsewhere [
14
,
15
]. However, as two of these nine STI group subjects were studied after they restarted treatment, they were also included among the longitudinal treatment group, bringing the total number of patients in the longitudinal treatment group to 28. Table
1
provides a summary of the salient clinical and laboratory variables in the 100 subjects and also divides them according to ART treatment status. Additionally, Table
1
summarizes data from a subgroup of patients on ART who were considered
treatment failures
, as defined by plasma HIV RNA concentration >500 RNA cpm.
Table 1
Baseline Characteristics of Study Subjects, including subgroups.
Sex:

HIV-1 RNA

N

Age

M:F

CD4+

Duration of Infectiona

CDC Stage C3b

ADC Stage

QNPZ-4 Score

Plasma

CSF

P-C log10 Diff.

CSF WBC

(yrs)

(ratio)

(cells/mm3)

(mean yrs +/- SD)

(percent)

(log10RNA copies/mL)

(cells/mm3)

Total

100

39.0 (36.0–45.0)

91:9

181.5 (48.8 – 285.3)

9.7 (+/- 5.60)

70.3%

0 (0 – 1)

-0.50 (-1.53 – 0.21)

4.73 (3.52 – 5.15)

2.74 (1.48 – 4.00)

1.30 (0.19 – 2.32)

1.0 (0.0 – 4.0)

ADC ≥ 1 = 30.0%

Subdivision by Treatment Group and Effect

Off Treatment

46

38.0 (33.5 – 43)

42:4

195.0 (33.5 – 307.5)

7.5 (+/- 5.80)

65.2%

0 (0 – 0.5)

-0.46 (-1.35 – 0.26)

4.93 (4.53 – 5.49)

3.61 (2.57 – 4.40)

1.19 (0.42 – 21.7)

2.0 (0 – 11.3)

ADC ≥ 1 = 23.1%

On Treatment (Total)

54

43.0 (38.0-29.3)

49:5

181.5 (76.0 – 275.5)

11.09 (+/- 5.08)

75.9%

0.5 (0 – 1.0)

-0.51 (-2.62 – 0.20)

3.40 (1.85 – 4.80)

1.66 (1.28 – 3.07)

1.37 (0.0 – 2.42)

1.0 (0.0 – 2.0)

ADC ≥ 1 = 36.6%

On Treatment Failures

36

40.0 (38.0 – 47.8)

32:4

166.5 (48.3 – 276.5)

11.24 (+/- 4.18)

75.0%

0.5 (0 – 1.0)

-0.42 (-2.40 – 0.25)

4.73 (3.99 – 5.04)

2.45 (1.45 – 3.64)

2.19 (1.29 – 2.59)

0.5 (0.0 – 2.8)

ADC ≥ 1 = 37.0%
Reflecting the demography of the local epidemic, over 90 percent of our subjects were men, with a median age of 39 years. The majority of the cross-sectional only sample was on ART, though VL was undetectable in plasma in only eight of these 65 subjects, reflecting a bias toward entry of subjects with virological failure.
While most of the 28 subjects in the longitudinal treatment group were ART-naive or had limited prior therapy, seven were on therapy, changing or adding one or more drugs at baseline. Twenty-four of 80 subjects without confounding neurological conditions (30%) were diagnosed with ADC: 13 subjects with ADC Stage 1, 8 subjects with ADC Stage 2, and 3 subjects with ADC Stage 3. Most had stable neurological impairment and clinically 'inactive' CNS disease (exceptions are discussed below). The prevalence of ADC was the principal reason for the overall median QNPZ-4 score below "normal".
Cross-sectional analysis
CSF HIV RNA
In the cross-sectional evaluation, HIV RNA was characteristically lower in CSF than in plasma, and the VL differences between the two compartments, which we express here and below as the
ΔPlasma:CSF
(log
10
plasma HIV RNA – log
10
CSF HIV RNA), varied widely, ranging from -1.32 to 4.08 log
10
cpm (Table
1
). CSF VL was higher than plasma VL in only 11 of 100 subjects, with a difference of >0.50 log
10
cpm found in only 3 of these 11 subjects. Figure
1
shows the distribution of the plasma (A) and CSF (B) HIV RNA in relation to the blood CD4 cell counts in the 100 subjects. Division of the results into CD4 quartiles shows that the cohort did not distribute evenly among CD4 values, so that one quarter of the subjects had CD4 counts below 49 cells/μL.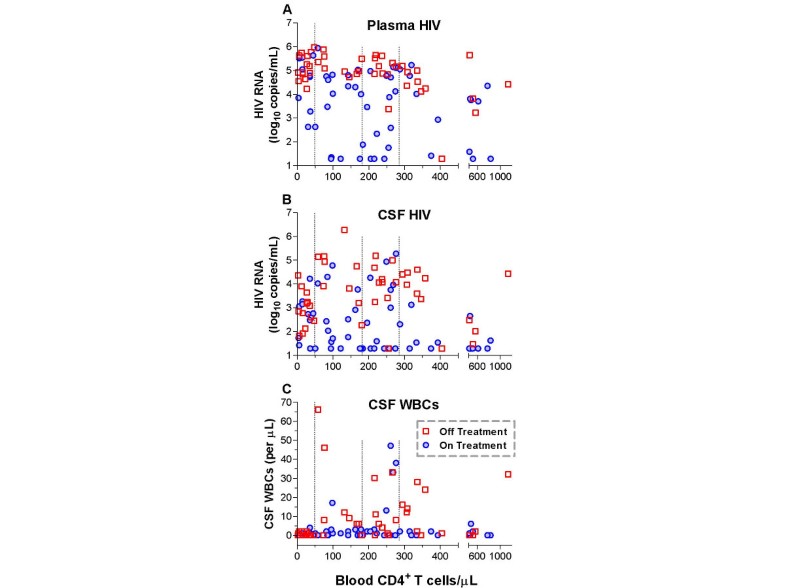 The treated subjects had lower VLs in both compartments (Table 1, Figure 1; p < 0.001 for both; Kruskal-Wallis test). To assess the effects of ART on CSF HIV in the setting of treatment failure, we analyzed the results in the subjects on ART who had plasma HIV VLs above 500 cpm and include this subgroup in Table 1. The median plasma VL in this subgroup was similar to that of the off treatment group, though these groups differed statistically (p = 0.017, Mann-Whitney). More notably, the median CSF values differed by more than 10-fold (p = 0.001), and therefore the median ΔPlasma:CSF of the failure group was greater than the median for subjects off treatment. This post hoc analysis raises the question of whether 'failed' treatment might alter the relationship of CSF to plasma HIV, and indicates that despite plasma HIV escape, treatment still had an effect on CSF.
Overall, CSF HIV RNA correlated with only two other variables examined, the plasma VL and the CSF WBC count (p < 0.001 for both, Spearman's rho 0.629 and 0.516, respectively). In contrast, CSF HIV did not correlate with the blood CD4+ cells, ADC stage or QNPZ-4 scores. However, as shown on Figure 1, plasma VLs were highest in subjects in the first CD4 quartile (<49 cells/μL). The plasma VL in this quartile was 5.03 log10 cpm with IQR 4.67 – 5.57, while the median plasma VL of the remaining 75 subjects was 4.35 log10 cpm with IQR 2.92 to 4.98 (p = 0.001). In contrast, the CSF VLs of subjects in this first quartile (median 2.75 log10 cpm, IQR 2.15 – 3.20) did not differ from those of the remaining 75 subjects (median 2.64 log10 cpm, IQR 1.28 – 4.19) (p = 0.650). The combined effect of higher plasma VL and similar CSF VL in the first quartile compared to the other subjects resulted in a greater median ΔPlasma:CSF for subjects in the first quartile (2.25 log10 cpm, with IQR 1.75 – 2.95), relative to the median for the remaining 75 subjects (0.800 log10 cpm, IQR of 0.00 – 1.97) (p = 0.001).
CSF WBC counts
Twenty-four subjects had abnormal CSF WBC counts (>5 cells/μL), composed of 85–100 percent lymphocytes, with the remainder mononuclear cells. All 24 were asymptomatic, despite a median count of 15 cells/μL (IQR 9 – 32 cells/μL, range 6 – 66 cells/μL). The CSF WBC count did not significantly correlate with plasma VL.
Figure
2
shows the relationship between CSF WBC count and plasma and CSF HIV VLs using a three-dimensional plot. The highest CSF VLs were in subjects with
both
pleocytosis and high plasma VLs (generally ≥ 4.0 log
10
cpm). These were also the subjects with the highest CSF VLs. By contrast, many subjects with similarly high plasma VLs
without
pleocytosis had lower CSF VLs. Three subjects with CSF VLs that substantially exceeded those of plasma are indicated by subject number in Figure
2
and are discussed below. Subjects with CSF WBC counts ≥ 10 cells/μL had a median VL difference between the two fluids of 0.150 log
10
cpm (IQR -0.115 – 0.425 copies) – far below the difference seen in the group overall.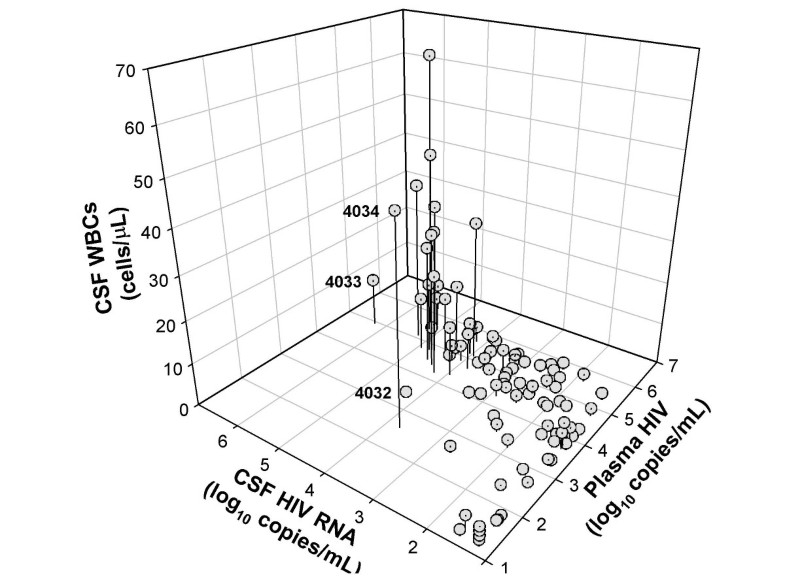 CSF WBC counts showed only a modest correlation with CD4 counts (p = 0.01; rho 0.254), Figure 1C shows that this correlation related chiefly to differences between the subjects in the lowest CD4 quartile (less than 50 cells/μL) and the remaining subjects with higher CD4 counts. The median WBC count for first quartile was 0 cells/μL (IQR 0 – 1.0) while that for the remaining subjects was 2.0 cells (IQR 0 – 8.3 cells) (p = 0.009; t-test).
Neurological status
Neither the ADC stage nor the QNPZ-4 score correlated with the CSF or plasma VLs across the cross-sectional group, though these two measures correlated strongly with each other (p < 0.001, rho -0.746), and both also correlated with the CD4 count (p < 0.001 for both, rho = -0.515 for ADC stage and 0.467 for QNPZ-4). For all ADC subjects, the CD4 median was 67.5 cells/μL (IQR 28.0 – 124.5); for the untreated ADC subgroup, the median was 35 (IQR 14.5 – 67.5) cells/μL, and for those on ART, the median was 95 cells/μL (IQR 36 – 205).
Only 6 subjects were judged to have active ADC. Two of these were treatment failures with active disease despite ART, while the other four were off ART at presentation. Among the six were the three subjects designated as outliers in Figure 2 because of VLs higher in CSF than in plasma: subject 4034 with ADC Stage 1, and subjects 4032 and 4033 with Stage 2. While two had elevated CSF WBC counts consistent with the general positive correlation between of high CSF VL and CSF WBC count, subject 4032 did not. His CSF VL was high (19,700 cpm), his plasma HIV level was nearly tenfold lower (2,800 cpm), and the usual Δplasma:CSF was reversed despite acellular CSF. While he was prescribed nelfinavir, abacavir and zidovudine, it was suspected that he was not consistently taking full dosage, and genotypic resistance studies showed no evidence of significant resistance-associated mutations in the HIV PR or RT regions (not shown).
Longitudinal treatment studies
Longitudinal analysis involved 28 subjects who were followed with repeated LPs after initiating or modifying treatment. This is an extension of our earlier published study, adding 13 subjects and prolonging the period of follow-up for several of the 15 subjects previously described [25]. Twenty of these subjects were either treatment-naïve, had limited ART exposure, or had been fully suppressed in the past before stopping therapy and were therefore anticipated to respond well to ART. The remaining eight subjects had failed their previous treatment and were either changing therapies or restarting ART after a hiatus, with addition or substitution of one of more drugs at entry into the study.
Subjects underwent multiple LPs (median 6, IQR 5–8). Figure
3
shows the course of their HIV RNA levels in plasma (A) and CSF (B) along with changes in CSF WBCs (C) during the follow-up. At baseline, the plasma VLs were both higher and within a narrower range than those of CSF.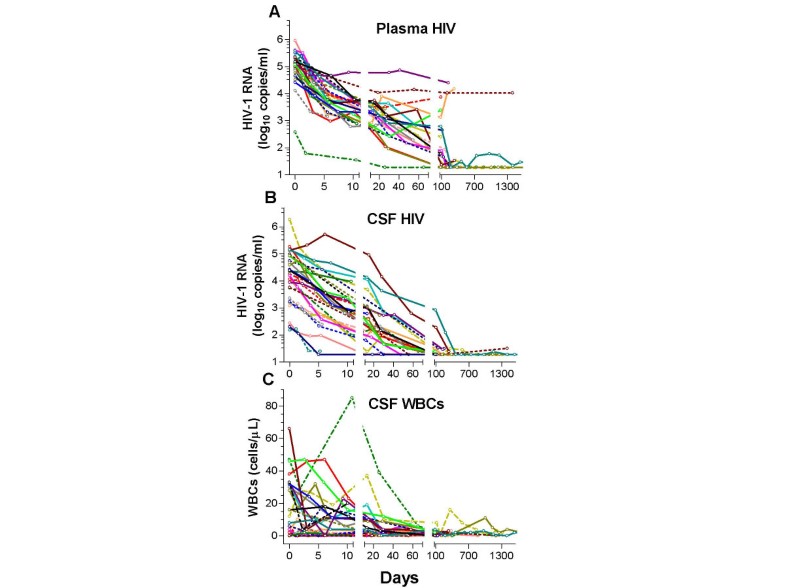 Early-phase CSF virological responses
The graphs in Figure 3 are divided into 3 temporal segments. Visual comparison of the initial segment (days 0–11) suggests that early viral decay was slower in CSF than in plasma for some subjects. Using previously described methods that apply linear regression to the log10 HIV RNA values in CSF and plasma [25], and restricting comparison to subjects who began multidrug regimens and exhibited rapid initial plasma decay, we derived CSF:plasma decay ratios in 18 of the subjects who had at least 3 LPs between days 0 and 11.
The CSF:plasma HIV decay ratios were variable (median 0.82, IQR 0.41–1.10). Exploration of the relationship of these ratios to baseline variables showed a high correlation with only the blood CD4 T lymphocyte count (
p
< 0.000, rho -0.744), and that neither the baseline VLs themselves, the CSF WBCs, nor the ADC stage had a significant effect. Figure
4
shows the relationship between the CSF:plasma viral decay ratio and the baseline CD4 counts and includes a regression line that shows equal decay in plasma and CSF (a CSF:plasma decay ratio value of 1) near CD4 = 250 cells/μL, with slower decay at lower CD4 counts. This decay difference related to CD4 count suggests a change in the character of CSF infection with more advanced systemic infection.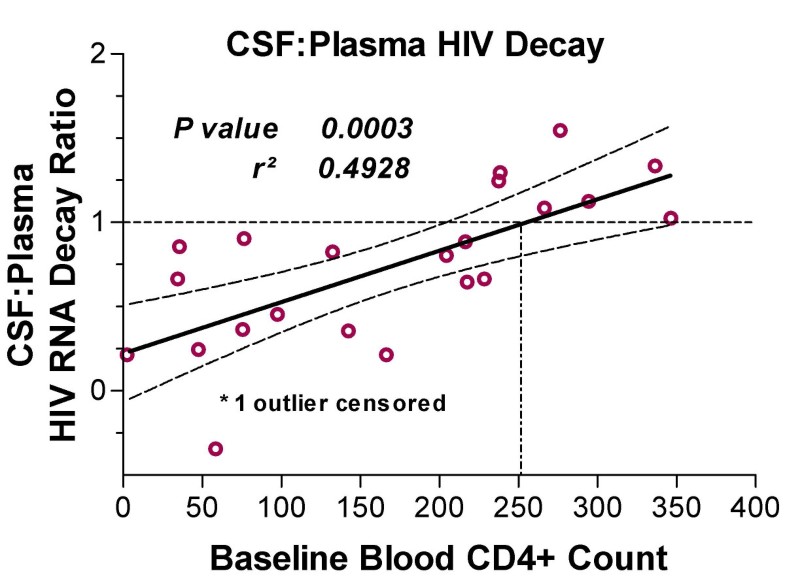 Longer-term virological and WBC responses in CSF
Despite slower initial decay in CSF compared to plasma in some subjects, the longer-term effects of ART on CSF HIV RNA in this group were excellent, and all subjects reached or approached the limit of detection over the period of observation (Figure 3A and 3B). As shown in Figure 3C, treatment also eliminated the CSF pleocytosis in all subjects with elevated baseline WBC counts.
Particularly notable in the treatment group were five subjects who achieved CSF HIV suppression despite persistent plasma viremia. Their CD4 counts were similar to the larger group (median 205 cells/μl, range 77 – 269). Four were neurologically normal, while the fifth (subject 5007) had a diagnosis of ADC based on longstanding and clinically static myelopathy. The plasma and CSF HIV and WBC changes for these five subjects with
dissociated longer-term responses
are shown in Figure
5
(upper panels), along with results of phenotypic resistance testing for the drugs that they were taking (lower panels). The antiretroviral medication histories and genotypic resistance mutations detected in the two fluids of these five subjects are presented in Table 2 [see
Additional file 1
]. All were treatment-experienced when entering the study; three (4001, 5001 and 5007) were on therapy and changing or modifying their regimens, while the remaining two (4015 and 4030) were off ART at the study start and were initiating new regimens.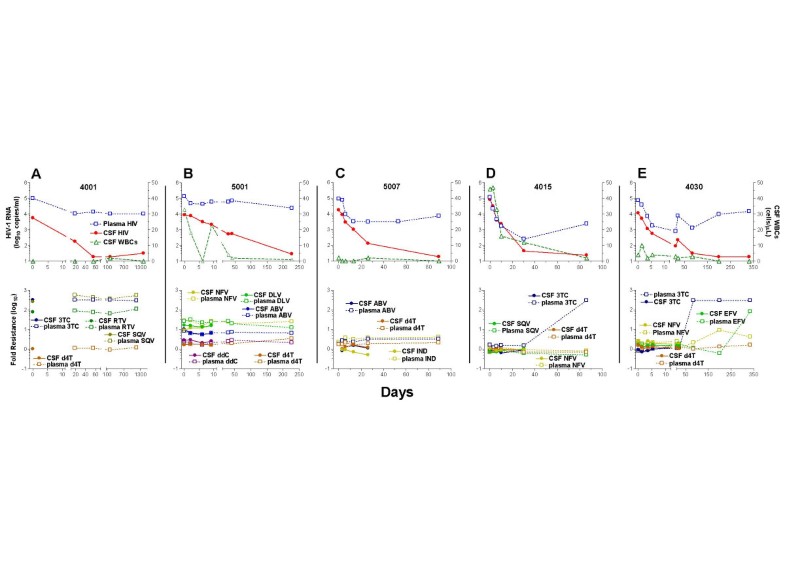 The results of genotypic and phenotypic drug resistance analysis of plasma and CSF indicate that persistent plasma viremia was associated with drug resistance that was either demonstrable at baseline (subjects 4001, 5001 and 5007) or emerging during the period of observation (4015 and 4030). In two subjects (5001 and 5007) with baseline resistance, minor differences in genotypic mutations suggested at least partial compartmentalization, with CSF viruses more drug-susceptible than the predominant plasma quasispecies. Phenotypic drug susceptibility testing in Subject 5001 (Figure 5B) showed resistance to drugs in his regimen in both compartments, including resistance to abacavir. Minor differences in resistance mutations in the two fluids (Table 2 [see Additional file 1]) were likely insufficient to explain his greater CSF response. Genotypic analysis in Subject 5007 (Table 2 [see Additional file 1]) suggests a mixed population of drug susceptible and resistant viruses in CSF samples (for example M41M/L, L74L/V and T215T/N/S/Y) compared to a predominantly resistant population in plasma (for example M41L, L74V and T215Y). Perhaps greater susceptibility of a 'compartmentalized' CSF virus population contributed to the greater CSF response (Table 2 [see Additional file 1] and Figure 5C). Interestingly, the highly resistant plasma HIV population did not 'overflow' into the CSF and completely alter its resistance profile.
The other three (4001, 4015, and 4030) showed no evidence of compartmentalization at baseline, with similar susceptibility in both plasma and CSF virus populations. In Subject 4001 (Figure 5A), high-level resistance to lamivudine, saquinavir and ritonavir raises the question of whether the therapeutic effect on CSF may have related principally to stavudine, though this drug was insufficient to suppress plasma HIV. The initial samples of both plasma and CSF from Subject 4015 (Figure 5D) showed mixed populations of lamivudine resistance (M184M/V), from which emerged the resistant quasispecies (M184V) at the time of viral rebound (Table 2 [see Additional file 1]). In Subject 4030 (Figure 5E) phenotypic and genotypic resistance testing showed nearly identical susceptibility in CSF and plasma, and wild-type genotypes in both compartments. At day 85 and afterwards, his plasma HIV showed increasing resistance to lamivudine, nelfinavir and efavirenz (resistance to nevirapine increased similarly, not shown), with susceptibility only to stavudine, though genotyping showed the emergence of a stavudine mutation, T215Y. In addition to the disproportionate CSF HIV response, CSF WBC counts were also suppressed in these subjects. This was most remarkable in subjects 4015, with more than 45 cells/μL, and 5001, with 33 cells/μL at baseline; in both, the pleocytosis resolved despite sustained plasma HIV.
Neurological responses to ART
In the 24 treatment-group subjects without active ADC at baseline, QNPZ-4 scores were stable or showed small increases over the course of observation (not shown). The four subjects in the treatment group who presented with active ADC (5002, 4033, 4013, and 4034) showed both clinical improvement and distinct increases in this performance score in response to initiation or change of antiretroviral therapy. The clinical histories, antiretroviral therapy regimens, laboratory measurements, and QNPZ-4 scores of these subjects are presented in Figure
6
. Of note, genotypic resistance testing, available at baseline for Subject 4034 (Figure
6D
) who developed ADC on treatment with an unusual regimen, showed concordance in CSF and plasma with no resistance mutations in the RT and only L63P, A71A/V and V77I changes in the PR. These findings are consistent with insufficient drug potency and poor drug penetration into the CSF, and might suggest that the CNS served as a major site of viral replication in this subject. In response to a change to abacavir, nevirapine and indinavir/ritonavir, he achieved virological suppression in both and an improvement in the speed and clarity of his cognition.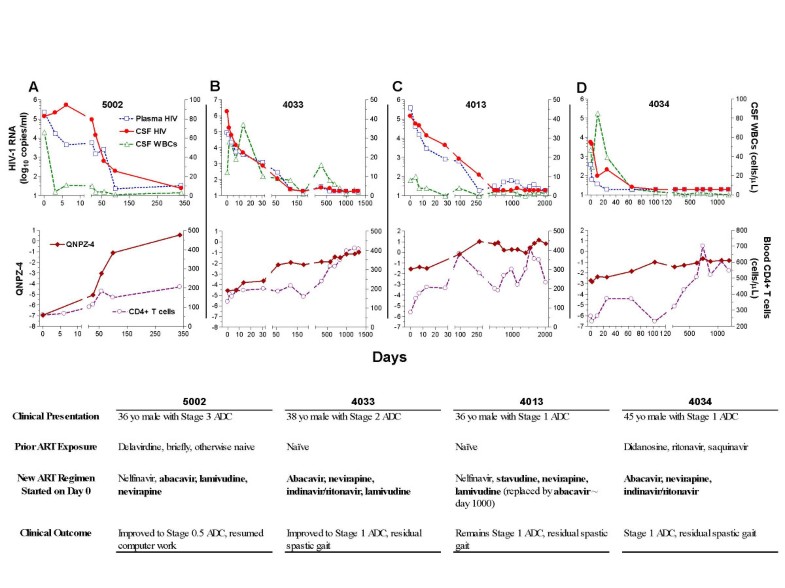 Discussion
The CSF found in the ventriculo-leptomeningeal space is separated from systemic sources of virus, immune defenses, and antiviral drugs, and is easily sampled by lumbar puncture. Thus, study of CSF HIV infection can serve a valuable role in understanding the dynamics and mechanisms of infection within an isolated tissue compartment. Further, CSF infection serves as both a model of and window into brain infection, providing important insight into viral neuropathogenesis. This CSF 'compartment' can be viewed as parallel to the brain compartment, sharing some of its barrier features. However, exchanges between CSF and blood may differ from those between brain and blood, and as a result, tissue responses may differ from CSF responses in important ways [27]. More directly, the CSF may reveal brain processes as a consequence of its intimate contiguity and function as an extracellular 'sink' where molecules produced in the brain (or along its perivascular spaces) that have diffused into the CSF can be sampled [8].
The studies described here used complimentary cross-sectional and longitudinal approaches to show that CSF infection is a nearly universal facet of the ecology of systemic HIV infection. CSF HIV RNA concentrations correlated with those of plasma, but were characteristically lower. The median difference between plasma and CSF HIV VLs (Δplasma:CSF) was 1.30 log10 cpm though this difference also varied considerably, ranging from -1.32 to 4.08 log10 cpm. Our results extend previous reports [4, 6, 7, 28–31] and focus on the factors that modify CSF infection in relation to plasma VL. CSF infection is importantly influenced by the CSF WBC response, the degree of systemic immunological progression as measured by blood CD4+ T cells, antiretroviral treatment and drug resistance, and the presence of active ADC.
Conclusion
HIV infection of the CNS is a nearly ubiquitous facet of systemic infection, but varies in character and clinical consequences. From very early exposure during primary systemic infection, most HIV-infected patients experience chronic asymptomatic CNS infection. However, a few individuals will develop encephalitis presenting as ADC. CSF sampling provides a valuable window into this infection and its variability.
We have framed the discussion of our results in models of CSF infection. Embedded in these models are a number of dichotomies relating systemic to CNS infections: (1) transitory versus more autonomous infections with rapid versus slower turnover rates; (2) CSF lymphocytosis either causing or responding to local infection, and (3) infection of the meninges presenting as 'asymptomatic pleocytosis' versus more toxic parenchymal or perivascular infection leading to the brain dysfunction of ADC. These provide a framework for future studies examining the mechanisms of infection in molecular terms and with respect to cell and HIV exchange and compartmentalization.
On a more practical level, to the extent that CSF infection reflects infection of the brain, antiretroviral therapy is usually effective in suppressing CNS HIV replication. Our longitudinal observations show that CSF infection usually responds well to combination antiretroviral therapy, equaling or exceeding systemic responses as reflected in plasma. Even where resistance leads to virological failure and persistent plasma viremia, ART may have a salutary effect on CSF. While the mechanisms underlying these favorable treatment effects remain uncertain, these observations are consonant with other reports using less frequent monitoring and are therapeutically reassuring. Our findings suggest that favorable virological outcomes in the CSF are the rule rather than an exception. They are also consistent with clinical studies that report a falling incidence of ADC in the current treatment era [68].
Declarations
Acknowledgements
This work was supported by: NIH grants R01 NS37660, R01 MH62701, and UCSF GCRC, 5-MO1-RR-00083, Abacavir was provided by Glaxo-Wellcome. We would also like to thank the subjects who volunteered for these studies and the staff of the SFGH/UCSF GCRC clinical facility and Virology Laboratory for their invaluable help.
Authors' Affiliations
(1)
Department of Neurology, University of California San Francisco, USA
(2)
Department of Medicine, University of California San Francisco, USA
(3)
Gladstone Institute of Virology and Immunology, San Francisco, USA
(4)
ViroLogic, Inc., South San Francisco, USA
Copyright
© Spudich et al; licensee BioMed Central Ltd. 2005
This article is published under license to BioMed Central Ltd. This is an Open Access article distributed under the terms of the Creative Commons Attribution License (http://creativecommons.org/licenses/by/2.0), which permits unrestricted use, distribution, and reproduction in any medium, provided the original work is properly cited.