Research article

Open Access

Open Peer Review
This article has Open Peer Review reports available.
Modelling the transmission of healthcare associated infections: a systematic review
BMC Infectious Diseases
2013
13:294
Received: 29 November 2012
Accepted: 21 June 2013
Published: 28 June 2013
Abstract
Background
Dynamic transmission models are increasingly being used to improve our understanding of the epidemiology of healthcare-associated infections (HCAI). However, there has been no recent comprehensive review of this emerging field. This paper summarises how mathematical models have informed the field of HCAI and how methods have developed over time.
Methods
MEDLINE, EMBASE, Scopus, CINAHL plus and Global Health databases were systematically searched for dynamic mathematical models of HCAI transmission and/or the dynamics of antimicrobial resistance in healthcare settings.
Results
In total, 96 papers met the eligibility criteria. The main research themes considered were evaluation of infection control effectiveness (64%), variability in transmission routes (7%), the impact of movement patterns between healthcare institutes (5%), the development of antimicrobial resistance (3%), and strain competitiveness or co-colonisation with different strains (3%). Methicillin-resistant Staphylococcus aureus was the most commonly modelled HCAI (34%), followed by vancomycin resistant enterococci (16%). Other common HCAIs, e.g. Clostridum difficile, were rarely investigated (3%). Very few models have been published on HCAI from low or middle-income countries.
The first HCAI model has looked at antimicrobial resistance in hospital settings using compartmental deterministic approaches. Stochastic models (which include the role of chance in the transmission process) are becoming increasingly common. Model calibration (inference of unknown parameters by fitting models to data) and sensitivity analysis are comparatively uncommon, occurring in 35% and 36% of studies respectively, but their application is increasing. Only 5% of models compared their predictions to external data.
Conclusions
Transmission models have been used to understand complex systems and to predict the impact of control policies. Methods have generally improved, with an increased use of stochastic models, and more advanced methods for formal model fitting and sensitivity analyses. Insights gained from these models could be broadened to a wider range of pathogens and settings. Improvements in the availability of data and statistical methods could enhance the predictive ability of models.
Keywords
Mathematical modelling
Healthcare-associated infections
Epidemiology
Background
Healthcare-associated infections (HCAI) continue to cause a major burden on society, affecting more than 4 million patients annually in Europe alone, and causing an estimated 16 million additional bed-days responsible for €7 billion in direct medical costs [1]. In the United Kingdom, interventions such as improved hand hygiene, antibiotic stewardship and screening combined with decolonisation are believed to have set off a steep reduction in reported incidence of health care-associated methicillin-resistant Staphylococcus aureus (MRSA) bacteraemia and Clostridium difficile infection with peak incidence in 2003/04 and 2007/08 respectively [2]. Further progress in reducing the burden of HCAI is hindered by uncertainty surrounding the role of asymptomatic carriers [3, 4], environmental transmission [5–7] and the recent emergence of bacteria other than MRSA and C. difficile, such as enterobacteriaceae (e.g. Escherichia coli) [8]. Mathematical models are increasingly being used to obtain a deeper understanding of epidemiological patterns in hospital infections and to guide hospital infection control policy decisions, as is seen in other areas of infectious disease epidemiology [9].
A previous review of the area provided insight into the type of models used for hospital epidemiology and highlighted their capacity to increase epidemiological understanding, and inform infection control policy [10]. This review, conducted in 2006, primarily aimed to explain the capacities of models and therefore was limited to a detailed description of a number of studies. Hence, the emerging trends in the area were not fully explored. Since 2006 the field has expanded considerably. We conducted a systematic review in order to establish how mathematical models have been applied in the field of HCAI, and how model methods have developed over time.
Methods
We searched Medline (1950 to present), EMBASE (1947 to present), Scopus (1823 to present), CINAHL (1937 to present) and Global health (1910 to present). Results were limited to peer-reviewed publications in English. Search terms and Medical Subject Headings (MeSH) for nosocomial organisms and antibiotic resistance were combined with search and MeSH terms for healthcare settings and mathematical models as follows:
Nosocomial infections in general (e.g."healthcare-associated infection$" or "hospital-acquired infection$")
OR
Nosocomial organisms (e.g. "C. difficile" or "Staphylococcus aureus") OR Antimicrobial resistance AND Nosocomial (e.g. "hospital$" or "healthcare")
AND
Mathematical modelling or economic evaluation model (e.g. "stochastic" or "deterministic" AND "model")
We decided not to use search terms for nosocomial infection types (e.g. surgical site infections or urinary tract infections), since our review focuses on the transmission of infections from one individual to another, which cannot generally be accurately represented without knowing the causative organism.
The complete search strategy is provided in the Additional file 1. All databases were search identically, with exception of the MeSH terms, which were altered to the subject-heading dictionary used in each particular database. The final search was conducted on 11 December 2011. Each title and abstract in the search result was independently screened by EvK and at least one of the other authors. Full text evaluation was conducted by EvK and in case of uncertainty, discussion took place with JR.
Inclusion criteria
Eligible studies had to fulfil the following criteria: 1) mathematical modelling of HCAI transmission and/or the dynamics of antimicrobial resistance; 2) dynamic transmission models only (i.e. a model which tracks the number of individuals (or proportion of a population) carrying or infected with a pathogen over time, while capturing the effect of contact between individuals on transmission [9]); 3) a primary focus on HCAI transmission in healthcare settings.
Exclusion criteria
Studies were excluded if they did not involve: 1) human to human transmission; or did involve 2) within host transmission only; 3) pharmacodynamics and pharmacokinetics of drugs (e.g. the impact of antibiotic exposure, exploring antibiotic tolerance and investigating fitness), 4) animal transmission of HCAI; 5) community transmission of pathogens spread in the healthcare environment as well, where community spread was the focus of the paper (e.g. SARS epidemics); or 6) literature review without new primary studies. Moreover, no editorials or letters to editors were included, except if a new mathematical model was introduced.
Results
The database search retrieved 2461 unique papers (Figure
1
). After screening the titles and abstracts, 302 papers met the inclusion criteria and were thus eligible for full text evaluation. Review of the full text publications resulted in the inclusion of 94 relevant papers based on our selection criteria. An additional two papers were identified via reference screening [
11
,
12
].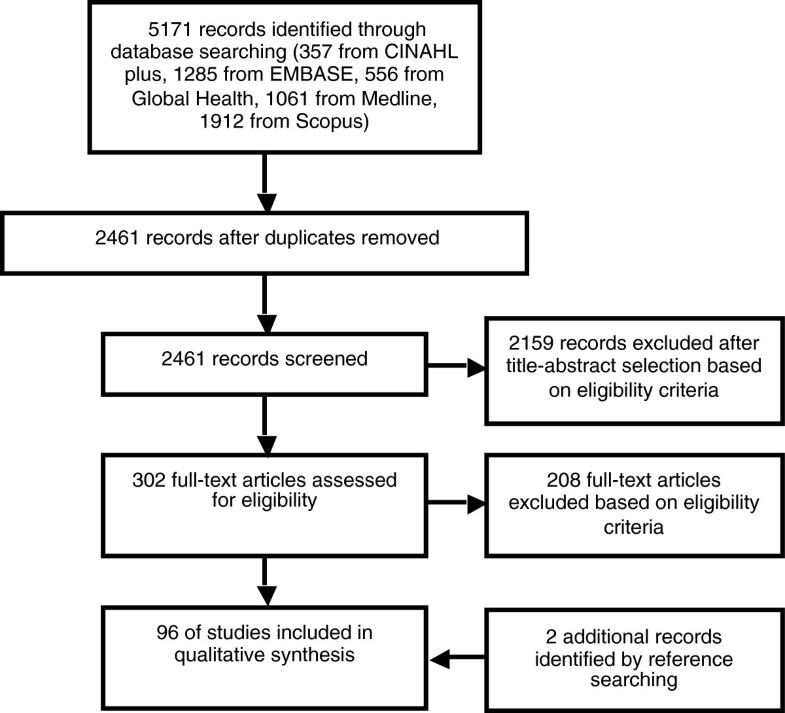 The distribution of these 96 papers over time demonstrates that HCAI transmission models have been increasingly employed since the introduction of the first model of nosocomial pathogens' spread [
13
] (Figure
2
)
.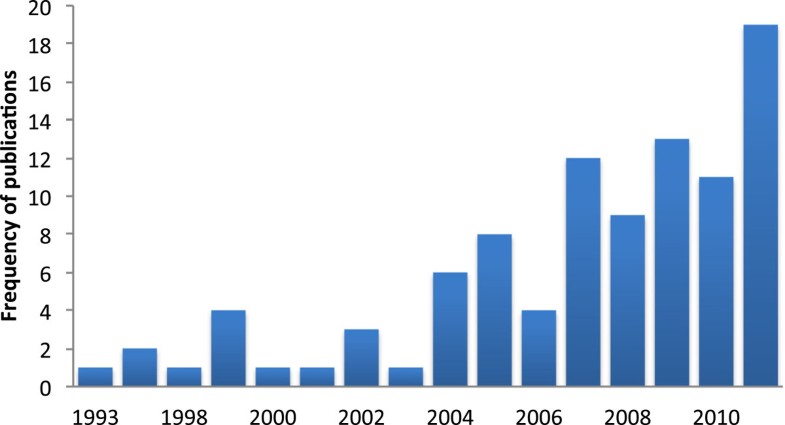 Objectives of mathematical models of HCAIs
Methods employed for mathematical modelling of HCAIs
Discussion
Models of MRSA transmission dominate the literature, followed by VRE, although to a considerably lesser extent. Both have been the subject of national surveillance and infection control policies in a variety of developed countries [110–112]. This may account for the relative abundance of modelling studies. Despite causing a high burden and being the subject of national control policies [113, 114], C. difficile transmission has seldom been modelled. Similarly, bloodstream infections due to third-generation cephalosporin-resistant E. coli, which have been estimated to cause ~2,700 excess deaths and 120,000 extra bed days in Europe in 2007 have been considered by only one study [65]. For comparison, MRSA was estimated to cause ~5,500 deaths and 256,000 additional bed days in Europe [115], yet has been the subject of over 30 studies. It seems then that the occurrence of models does not necessarily correlate to the burden of disease. This is also true in low and middle income countries, where a recently published systematic review [116, 117] demonstrated significantly higher prevalence of HCAIs than in high income countries; however, very few modelling studies have tackled the problems of HCAI in less developed settings.
In terms of model methods, considerable changes can be identified over time. After the introduction of the first deterministic HCAI modelling study, inclusion of stochasticity has become common practice. The majority of the HCAI models evaluate infection control policies, for which sound model parameterisation and sensitivity analyses are required for reliable predictions. The use of more sophisticated methods for model parameterisation (e.g. MCMC) and uncertainty analysis has become increasingly common.
HCAI models have also increased in complexity regarding the settings modelled. Although the majority of the models have considered a single ward (often ICUs), the apparent emergence of transmission of typical HCAIs in the community, in particular of MRSA [118], have resulted in models which consider the transmission of HCAI from a more holistic approach. As the long-term feedback loop related to hospital discharge and readmission of colonised patients and spread of HCAI pathogens in the community or settings as LTCFs can effect HCAI transmission dynamics [19, 70, 119], such an approach can aid in providing a realistic estimate of existing and new infection control strategies' effectiveness.
This review has some limitations. First of all we have exclusively considered peer-reviewed publications in English. This might have resulted in a slight inaccuracy in our results, e.g. with regards to the modelling of particular pathogens in alternative national settings. We were exclusively interested in models exploring the patient-to-patient transmission of HCAI and antimicrobial resistance within healthcare settings (either directly, or mediated by healthcare workers and/or the healthcare environment). This has resulted in the exclusion of a higher number of models that elucidate the dynamics of antimicrobial resistance in its own right, which are summarised elsewhere [120, 121]. Moreover, this review intended to provide overall trends in the field of HCAI modelling, rather than a detailed account of the quality of individual models and of what these models have shown, which could be a valid future area of investigation.
Compartmental models (which group individuals in classes) have predominated the field of HCAI modelling. The emergence of individual-based modelling allows for more realistic modelling of healthcare worker-patient contact (e.g. super spreading events) or incorporation of heterogeneity in transmission risk profiles of patients. However, these approaches are computationally far more intensive, are difficult to fit to data, and the inclusion of additional factors makes more demand on the data available. Detailed level data such as observed healthcare worker-patient contact collected for example via mote-based sensor networks, as has been done recently [122], could help parameterise such more complex models.
Moreover, recent technological developments in microbiology have resulted in enhanced access to pathogen sequence data, which could help to further improve HCAI models. Such data are beginning to inform disease outbreaks e.g. of avian influenza A (H7N7) [123] and Foot-and-Mouth disease [124]. Importantly, the increasingly routine use of sequencing of genetic material for epidemiological purposes can provide valuable insight, such as aiding in the understanding of the role of asymptomatic carriers in transmission (e.g. of C. difficile) and evolution of antimicrobial resistance.
Conclusions
Transmission models concerning HCAI have showed a general enhancement in complexity, but have been almost completely limited to high-income settings, and have strongly focused on MRSA transmission in hospital settings. Further improvements in the availability of data and statistical methods could enhance the insight gained from these models.
Abbreviations
ARB:

Antimicrobial resistant bacteria
CRE:

Cephalosporin-resistant Enterobacteriaceae
ESBL:

Extended-spectrum beta-lactamases
HCAI:

Healthcare-associated infections
ICU:

Intensive care unit
ILI:

Influenza-like illness
LHS:

Latin Hybercube Sampling
LTCF:

Long-term care facility
MCMC:

Markov Chain Monte Carlo
MRSA:

Methicillin-resistant Staphylococcus aureus
R-GNR:

Third generation cephalosporin-resistant Gram-negative rods
TB:

Tuberculosis
VRE:

Vancomycin-resistant Enterococcus.
Declarations
Acknowledgement
The authors are grateful to the referees for their valuable suggestions and advice. This work was supported by the Healthcare Infection Society.
Authors' Affiliations
(1)
Infectious Disease Epidemiology Department, Faculty of Epidemiology and Population Health, Centre of Mathematical Modelling, London School of Hygiene and Tropical Medicine, London, UK
(2)
Modelling and Economics unit, Public Health England, Colindale, UK
Copyright
© van Kleef et al.; licensee BioMed Central Ltd. 2013
This article is published under license to BioMed Central Ltd. This is an Open Access article distributed under the terms of the Creative Commons Attribution License (http://creativecommons.org/licenses/by/2.0), which permits unrestricted use, distribution, and reproduction in any medium, provided the original work is properly cited.