Correspondence

Open Access

Open Peer Review
This article has Open Peer Review reports available.
Ebola haemorrhagic fever outbreak in Masindi District, Uganda: outbreak description and lessons learned
BMC Infectious Diseases
2011
11:357
Received: 6 August 2010
Accepted: 28 December 2011
Published: 28 December 2011
Abstract
Background
Ebola haemorrhagic fever (EHF) is infamous for its high case-fatality proportion (CFP) and the ease with which it spreads among contacts of the diseased. We describe the course of the EHF outbreak in Masindi, Uganda, in the year 2000, and report on response activities.
Methods
We analysed surveillance records, hospital statistics, and our own observations during response activities. We used Fisher's exact tests for differences in proportions, t-tests for differences in means, and logistic regression for multivariable analysis.
Results
The response to the outbreak consisted of surveillance, case management, logistics and public mobilisation. Twenty-six EHF cases (24 laboratory confirmed, two probable) occurred between October 21st and December 22nd, 2000. CFP was 69% (18/26). Nosocomial transmission to the index case occurred in Lacor hospital in Gulu, outside the Ebola ward. After returning home to Masindi district the index case became the origin of a transmission chain within her own extended family (18 further cases), from index family members to health care workers (HCWs, 6 cases), and from HCWs to their household contacts (1 case). Five out of six occupational cases of EHF in HCWs occurred after the introduction of barrier nursing, probably due to breaches of barrier nursing principles. CFP was initially very high (76%) but decreased (20%) due to better case management after reinforcing the response team. The mobilisation of the community for the response efforts was challenging at the beginning, when fear, panic and mistrust had to be countered by the response team.
Conclusions
Large scale transmission in the community beyond the index family was prevented by early case identification and isolation as well as quarantine imposed by the community. The high number of occupational EHF after implementing barrier nursing points at the need to strengthen training and supervision of local HCWs. The difference in CFP before and after reinforcing the response team together with observations on the ward suggest a critical role for intensive supportive treatment. Collecting high quality clinical data is a priority for future outbreaks in order to identify the best possible FHF treatment regime under field conditions.
Keywords
Suspect Case
Personal Protective Equipment
Probable Case
Response Team
Nosocomial Transmission
Background
Since its discovery 1976 in Nzara and Maridi, Sudan [1], the Sudan ebolavirus (SEBOV) has caused three further epidemics in humans: Nzara, Sudan, 1979 [2], Gulu, Mbarara and Masindi, Uganda 2000 [3–5], and Yambio, Sudan, 2004 [6]. The reservoir of SEBOV and the mode of primary transmission to man are unknown. Secondary spread occurs through direct contact with infected patients, their body fluids or remains.
The 2000 Ebola haemorrhagic fever (EHF) outbreak in Uganda was first recognised on 8 October by the health authorities of Gulu district [4]. A national and international response was swiftly organised. On two occasions, infected individuals travelled from Gulu to other districts in Uganda, becoming the origin of secondary outbreaks: in Mbarara (5 cases), 620 km south of Gulu [7, 8], and in Masindi (26 cases), 170 km south of Gulu. In January 2001, the outbreak's final case was detected in Gulu [9]. With a total of 425 cases, the EHF outbreak in Uganda in 2000-2001 is the largest described to date [3–5].
This paper focuses on the secondary EHF outbreak in Masindi district. We describe the course of the outbreak, report on response activities, and attempt to appreciate strengths and weaknesses of the outbreak response. Albeit limited in the number of infected individuals, the outbreak control measures were met by a number of significant challenges, which merit scrutiny for improving future efforts.
Setting and methods
Setting
Masindi district is a rural district with a population of 400,000 at the time of the outbreak; agriculture and sugar industry are its main economic activities. Masindi town (Figure
1
), the district's administrative centre, had at that time a population of 25,000. The main road from Uganda's capital Kampala to the country's northern districts traverses the district but not Masindi town. Masindi district is characterised by its ethnic diversity: the population consists of 56 ethnic groups, of which the Banyoro and the Bagungu together form a 60% majority. Immigrants and refugees from neighbouring countries have settled in this region for decades. As elsewhere in Uganda, the five-tier local government structure consists of elected Local Councils, headed by a chairman.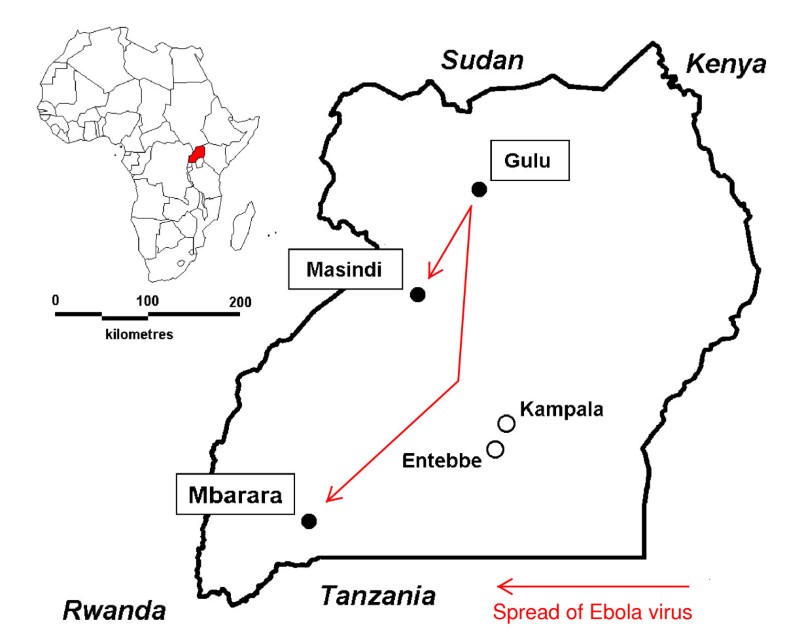 The governmental health system of Masindi district is headed by the District Director of Health Services (DDHS) in Masindi town. The district has 37 health centres and two hospitals: Masindi hospital (78 beds) and Kiryandongo hospital (104 beds). Kiryandongo hospital has more beds but is less well equipped, staffed and frequented.
Data sources and methods
We analysed surveillance records, hospital statistics and our own observations during response activities. While some clinical data could be extracted from surveillance records, clinical dossiers of individual patients were not available for analysis. We used two-sided Fisher's exact tests for differences in proportions, two-sided t-tests for differences in means, and logistic regression for multivariable analysis.
The National Task Force for the Gulu Ebola Outbreak authorised data collection and publication. No additional ethics approval was necessary, since we used data collected routinely in an emergency situation. Patients, relatives and health care workers were informed that a report would be published, and that their privacy would be respected. Permission to use the data for publication was granted by the Ministry of Health, whose local representatives at the time are among the co-authors of this paper.
Participant observations and discussion
Analysing surveillance records and hospital statistics allowed us to identify achievements and challenges in the EHF outbreak response activities in Masindi district.
Conclusions
In many ways, the response to the EHF outbreak in Masindi should have been straightforward: the number of cases was limited, all transmissions occurred in a controlled environment, a functioning hospital where an isolation ward could be set up was available and a FHF field laboratory within reach, and transport, communication and security were not particularly challenging compared with many other settings where FHF outbreaks have occurred. And yet, because of fear and resulting adverse reactions from local communities and HCWs, the response proved most challenging. This underlines once more the fundamental importance of establishing a relationship of trust and confidence with the families concerned, the community at large and local HCWs - such relationship is actually a necessary condition for a successful response [14]. Information management, i.e. providing authoritative information through a single and easily available source, is crucial in the prevention of perilous rumours.
Since the first occurrence of FHF outbreaks in their natural environment in 1976, a vast amount of knowledge has been accumulated on how such outbreaks should be investigated and responded to. However, a painful gap persists until today: how best to treat FHF disease. The EHF outbreak in Masindi was another missed opportunity in this respect: all clinical records were lost or destroyed. Thus, we can only suggest, based on observations, that intense supportive treatment may improve survival. The dearth of clinical data has reached a stage where the failure to contribute to our understanding of best clinical practice should be considered as unethical. We urgently need a consensus on which clinical data ought to be documented, and how [22].
Authors' information
MB, a medical epidemiologist with a particular interest in FHF, contributed to the Masindi EHF response as consultant for the Ministry of Health, and on two occasions (Watsa/DRC and Uige/Angola) to Marburg HF response activities as volunteer for Médecins Sans Frontières. IM and JT were, during the EHF outbreak, Medical Superintentends of Masindi and Kiryandongo hospitals, respectively. MVK is infectious disease epidemiologist with a special interest outbreak investigations, and whose research interests include avian influenza, pandemic influenza and FHF. JL is virologist and involved in FHF diagnostics at the Uganda Virus Research Institute. HL and GB were, during the EHF outbreak, Director and Deputy Director of Health Services in Masindi district. PP contributed to the Masindi EHF response as clinician for Médecins Sans Frontières, ND as epidemiologist for WHO-AFRO. PR is epidemiologist with Médecins Sans Frontières and has participated in the response to several FHF outbreaks. PVDS is senior epidemiologist whose research interests include FHF and Dengue fever.
Declarations
Acknowledgements
The following international institutions have participated in the outbreak response in Masindi District (in alphabetical order): Centers of Disease Control and Prevention, Atlanta, USA; EpiCentre, Paris; Health Canada; Institute of Tropical Medicine Antwerp, Belgium; Médecins Sans Frontières; Ministry of Health, Republic of Ghana; World Health Organisation, African Region and Headquarters. MD Vankerkhove receives funding from the Bill and Melinda Gates Foundation and the UK Medical Research Council.
Authors' Affiliations
(1)
Unit of Epidemiology and Disease Control, Institute of Tropical Medicine, Antwerp, Belgium
(2)
Infectious Disease Epidemiology Unit, London School of Hygiene & Tropical Medicine, Bloomsbury, UK
(3)
District Directorate of Health Services, Masindi, Uganda
(4)
MRC Centre for Outbreak Analysis and Modelling, Imperial College, London, UK
(5)
Uganda Virus Research Institute, Entebbe, Uganda
(6)
Médecin Sans Frontières, Brussels, Belgium
(7)
World Health Organisation African Region, Kampala, Uganda
(8)
Médecin Sans Frontières, Barcelona, Spain
(9)
Institute of Tropical Medicine and International Health, Charité - Universitätsmedizin Berlin, Berlin, Germany
(10)
National Tuberculosis and Leprosy Programme, Ministry of Health, Kampala, Uganda
(11)
Masindi District Health Office, Masindi, Uganda
(12)
World Health Organization Liberia, Monrovia, Liberia
Copyright
© Borchert et al; licensee BioMed Central Ltd. 2011
This article is published under license to BioMed Central Ltd. This is an Open Access article distributed under the terms of the Creative Commons Attribution License (http://creativecommons.org/licenses/by/2.0), which permits unrestricted use, distribution, and reproduction in any medium, provided the original work is properly cited.