Research article

Open Access

Open Peer Review
This article has Open Peer Review reports available.
Modeling the variations in pediatric respiratory syncytial virus seasonal epidemics
BMC Infectious Diseases
2011
11:105
Received: 6 April 2010
Accepted: 21 April 2011
Published: 21 April 2011
Abstract
Background
Seasonal respiratory syncytial virus (RSV) epidemics occur annually in temperate climates and result in significant pediatric morbidity and increased health care costs. Although RSV epidemics generally occur between October and April, the size and timing vary across epidemic seasons and are difficult to predict accurately. Prediction of epidemic characteristics would support management of resources and treatment.
Methods
The goals of this research were to examine the empirical relationships among early exponential growth rate, total epidemic size, and timing, and the utility of specific parameters in compartmental models of transmission in accounting for variation among seasonal RSV epidemic curves. RSV testing data from Primary Children's Medical Center were collected on children under two years of age (July 2001-June 2008). Simple linear regression was used explore the relationship between three epidemic characteristics (final epidemic size, days to peak, and epidemic length) and exponential growth calculated from four weeks of daily case data. A compartmental model of transmission was fit to the data and parameter estimated used to help describe the variation among seasonal RSV epidemic curves.
Results
The regression results indicated that exponential growth was correlated to epidemic characteristics. The transmission modeling results indicated that start time for the epidemic and the transmission parameter co-varied with the epidemic season.
Conclusions
The conclusions were that exponential growth was somewhat empirically related to seasonal epidemic characteristics and that variation in epidemic start date as well as the transmission parameter over epidemic years could explain variation in seasonal epidemic size. These relationships are useful for public health, health care providers, and infectious disease researchers.
Keywords
Respiratory Syncytial Virus
Respiratory Syncytial Virus Infection
Palivizumab
Transmission Parameter
Exponential Growth Rate
Background
Respiratory syncytial virus (RSV) has long been recognized as a substantial public health threat [1] with annual epidemics exacting an enormous toll on vulnerable populations and health care delivery systems. RSV is associated with substantial morbidity in children in both the hospitalized and outpatient setting [2–5]. In addition to the toll on the health of the population, this disease imposes a large burden on the health care system in terms of human and material resources. Although no RSV vaccine exists, infants and children with risk factors for severe RSV infection (eg, lung disease or prematurity) can receive monthly doses of palivizumab, a humanized murine anti-RSV monoclonal antibody, during the RSV season. Palivizumab treatment is extremely costly; the cost-effectiveness of this therapy could be improved if treatment is given only during times of high RSV activity. Treatment of vulnerable individuals also improves overall health in the population.
Prediction of seasonal epidemic characteristics including times of high activity and total size would support efficient management of resources and delivery of palivizumab. Health care facilities could forecast requirements for beds, staffing, testing, treatment, and other resources needed to care for sick children. For greatest effectiveness, these predictions should be made early in the RSV season; the authors, including public health practitioners and physicians, hold the expert opinion that these predictions would be useful within the first month of the observed start of the RSV seasonal epidemic.
In some regions, total epidemic size generally follows a biennial cycle from year to year with smaller epidemic seasons followed by larger epidemic seasons [
6
]. This cycle is currently used to gauge upcoming RSV seasonal epidemic size based on total size of the previous epidemic season. The Centers for Disease Control and Prevention (CDC) researchers using the National Respiratory and Enteric Virus Surveillance System found that the prior epidemic season's data were a relatively imprecise predictor of the epidemic season onset in a given community and that timing of the RSV epidemic season may vary substantially in the same year among communities in close proximity [
7
]. One goal of this research was to explore year-to-year variation in epidemic seasons using local data. The biennial variation in our seasonal epidemic data was seen in the early exponential growth rates (slope of the cumulative case curves, Figure
1
) as well as total epidemic size. We explored the relationship between exponential growth of RSV epidemics and the seasonal epidemic characteristics of total epidemic size, days to peak, and epidemic length to assess predictions made early in the epidemic season.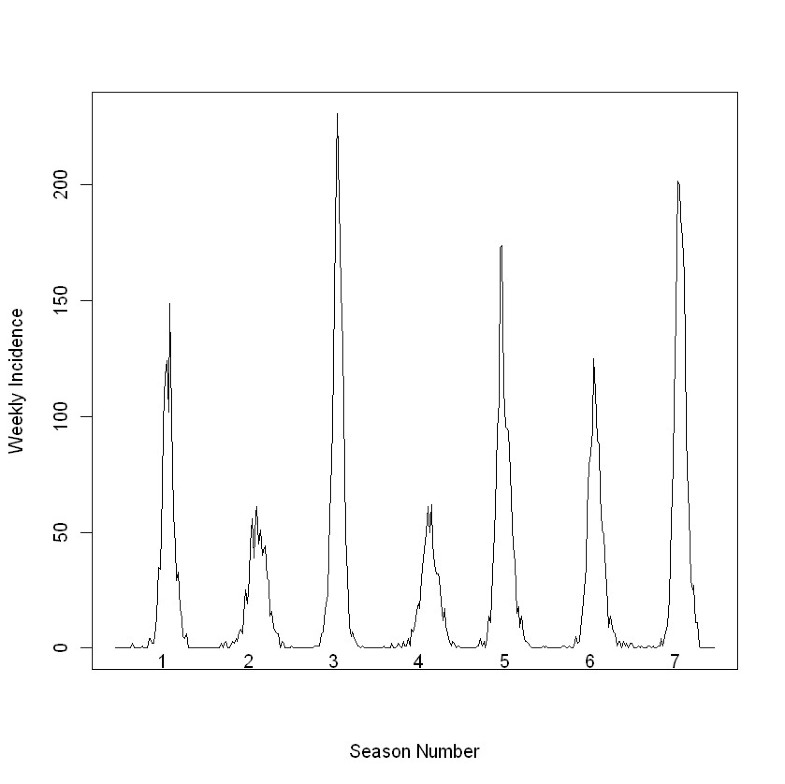 Knowledge about viral transmission characteristics and the data derived from surveillance systems can be used to inform novel approaches for estimating characteristics of RSV epidemics through the application of methods rooted in epidemiological models of infectious disease transmission [8, 9]. These methods are being increasingly applied to emerging threats like SARS [10–12] and pandemic influenza, but their application to routine epidemics of common respiratory viruses like seasonal influenza and RSV has only begun to be explored. Weber et al. [8] model RSV transmission to examine how climate and social factors influence transmission in a population. They consider compartmental models using Susceptible-Infected-Recovered-Susceptible (SIRS) with additions to include latency and stages of susceptibility. They find no single best model for RSV epidemics; many "competing" models fit the observed data well. We further explored the variation in seasonal epidemics using compartmental models. The variation in exponential growth could potentially be related to variation in transmission rates, epidemic start dates, or proportions susceptible as well as a host of other factors.
The second goal of this research was to evaluate the ability of a compartmental model based on epidemiologic principles to fit observed data from a series of epidemics and examine the extent to which seasonal variations in epidemics can be accounted for by variation in specific model parameters.
For these analyses, we used daily laboratory data from the major pediatric health care facility in Utah where routine viral testing is a fixture of standard clinical care for children presenting to regional emergency departments. The utility of the data from these surveillance systems for relating final epidemic size and modeling the epidemic curve has not been fully evaluated. We investigated the estimation of seasonal epidemic characteristics using regression of exponential growth across seven epidemic seasons. We also modified the model of Weber et al. to explore the model fits and estimates of epidemic size using variation of parameters within a Susceptible-Exposed-Infected-Infected/Detected-Recovered (SEIDR) model.
Results
Descriptive Analysis
The number of children with test-positive RSV infection ranged from 682 cases in 2004-5 to 1704 cases in 2007-8 (Table
1
). The median size of the annual epidemic was 1113 cases. Overall, 98% of cases were detected between the months of October and April. Larger epidemics alternated with smaller epidemics. The amplitude of this biennial cycle was approximately 600 cases.
Table 1
Observed RSV epidemic size, start date, days to peak, duration, and 4-week exponential growth.
Years

(Epidemic Year)

Epidemic

Size

Observed Start

(t0)

Days Until Peak

Duration

Exponential

Growth

2001-2 (1)

1074

12/12/01

69

124

0.063

2002-3 (2)

733

12/4/02

83

175

0.034

2003-4 (3)

1553

11/19/03

75

142

0.081

2004-5 (4)

682

11/27/04

85

173

0.033

2005-6 (5)

1400

11/02/05

62

154

0.068

2006-7 (6)

1113

11/12/06

80

176

0.061

2007-8 (7)

1704

11/27/07

59

144

0.050
The total number of children (under 18 years of age) tested per epidemic year ranged from approximately 3000 to 7000, with numbers of tests increasing over time. Overall, 21% percent of these were positive for RSV, varying according to the biennial cycle. Of children tested, 81% were less than three years old and 95% were less than 11 years old. Of children with positive tests, 92% were less than three years old and 99% were less than 11 years old. Of the children tested, 70% were from Salt Lake County and 77% of children with positive tests were from Salt Lake County.
Regression analyses
Exponential growth rates calculated from cases accumulated for four weeks from the observed epidemic season start ranged from 0.034 to 0.081 (Table
1
) across the epidemic seasons. The effective reproductive numbers ranged from 1.27 to 1.49 using a serial interval of seven days [
16
]. In regression analyses (Table
2
), the four-week exponential growth rate exhibited a substantial positive correlation with epidemic size (r = 0.69, p = 0.08), and was negatively correlated with start day (r = -0.43, p-value = 0.33), days to peak (r = -0.44, p-value = 0.32), and length of the epidemic (r = -0.58, p-value = 0.17). The regression models provided estimates of epidemic season characteristics that were on average within 16% of observed epidemic season size, 11% of observed days to peak, and 8% of observed epidemic length. Using exponential growth rates calculated from weeks one through six provided, in general, increasing correlation (Table
3
).
Table 2
Results of regression analysis using exponential growth to predict epidemic size, days to peak, and length.
Total Epidemic

Size

Days to Epidemic

Season Peak

Length of Epidemic

Season

Regression Intercept (S.E.)

321.0 (417)

87.5 (13.5)

192.3 (24.0)

Regression Slope (S.E.)

15383 (7175)

-255.3 (233)

-659 (413)

Regression Model p-value

0.08

0.32

0.17

R2

0.48

0.19

0.20

Root Mean Square Error

17.6

3.2

4.2

Mean of Absolute % Error

16

11

8
Table 3
Correlations between exponential growth rate (calculated at weeks one through six) with observed RSV epidemic size, start date, days to peak, and duration.
| Epidemic Weeks used for Exponential Growth Rate | Epidemic Size | Observed Start (t0) | Days Until Peak | Duration |
| --- | --- | --- | --- | --- |
| 1 | 0.30 | -0.52 | 0.17 | 0.09 |
| 2 | 0.58 | -0.63 | -0.33 | -0.30 |
| 3 | 0.62 | -0.51 | -0.36 | -0.47 |
| 4 | 0.69 | -0.43 | -0.44 | -0.58 |
| 5 | 0.78 | -0.40 | -0.56 | -0.64 |
| 6 | 0.81 | -0,40 | -0.59 | -0.62 |
SEIDR model
The saturated SEIDR model was fit to seven epidemic years of observed RSV data with epidemic year-specific RSE values that ranged from 13 to 21, RMSE values that ranged from 0.40 to 0.77 and percent error of total cases that ranged from 1% to 16%. The fit statistics for the models with either transmission parameter or detection fraction estimated as a constant across epidemic year did not differ substantially from those from the saturated model (Table
4
). The minimum RSE model with detection fraction held constant across epidemic years had the smallest % error, smallest Schwarz RSE Criterion, and had other fit statistics nearly equal to the saturated model. The minimum RMSE models were, in general, fitting to the tails of the epidemic and resulted in large errors in estimating epidemic size.
Table 4
Fit statistics for models with different sets of parameters allowed to vary across epidemic year.
Model:

Min RSE Models

Min RMSE Models

Schwarz Criterion

Parameters that vary by epidemic year

Sum RSE

Sum % Error

Sum RMSE

Sum % Error

RSE

RMSE

Time Offset

128

114

4.3

197

20050

2905

Transmission Parameter

152

127

4.6

217

20992

3288

Detection Fraction

154

202

4.6

221

21073

3287

Time Offset & Transmission Parameter

115

58

3.8

179

19556

2239

Time Offset & Detection Fraction

122

110

4.1

185

19871

2736

Transmission Parameter & Detection Fraction

147

119

4.4

218

20936

3254

All

113

75

3.5

188

19578

1946
The pattern of variation in estimates of offset from all models matched the biennial cycle variation in total epidemic size across epidemic years (Figure
3
). The variation in estimates of the transmission parameter and detection fraction did not necessarily match this cycle for all epidemic years. The parameter estimates for the transmission parameter were negatively correlated with total epidemic size.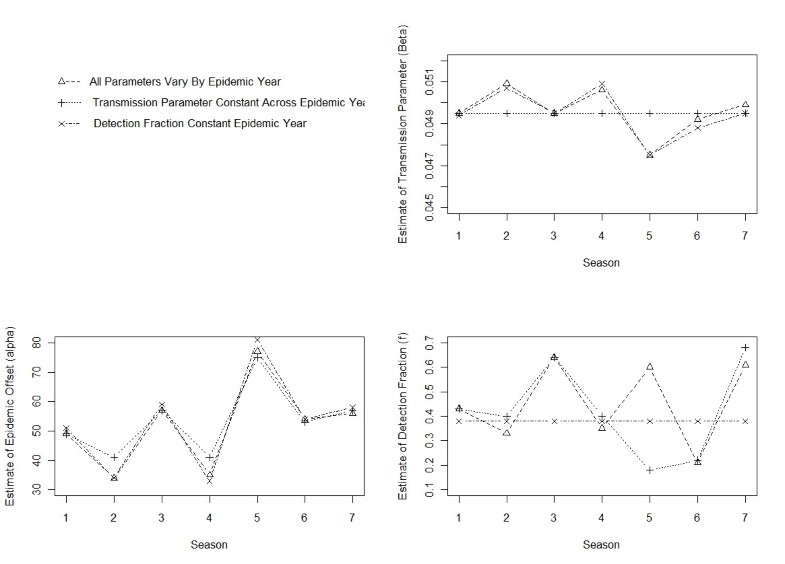 Discussion
The SEIDR model we presented made assumptions that simplified the reality of RSV transmission. We have identified three limitations to the SEIDR modeling effort. First, the population age separation does not take full advantage of differences in interaction among a non-homogenous population. Second, related to this, the parameter values were not allowed to vary within the population. Transmission, for instance, could be age-dependent (due, eg, to hand-washing habits). Third, the grid search method of parameter estimation did not provide estimated standard errors for parameter estimates, which limited the ability to compare models and seasons.
Despite these limitations, this SEIDR model was useful; it modeled the observed RSV cases from PCMC as part of larger unobserved epidemic seasons and provided a framework for investigating the model parameters. The parameters offset and transmission may not be completely identifiable within this framework but more likely represent combined other forces unmeasured here.
Our future work includes addressing these limitations and expanding the complexity of the models. RSV is carried by all age groups but is, in general, only a concern for infants. Thus, an age-stratified model, possibly with different mixing mechanisms, would more closely resemble the true transmission. The biennial cycle of large, early, and short seasonal epidemics followed by smaller, later, and longer seasonal epidemics the next year observed in Utah is similar to other published studies of seasonal RSV epidemics in temperate climates. The theories for this phenomenon include the existence and switching of two RSV disease strains, climate patterns, and waning immunity after infection [6, 8, 9, 22–24]. These and other theories could be investigated in more complex models. It is understood that immunity after infection of RSV is partial, at best. This incomplete immunity and severity of re-infections could be incorporated into more complex models [8, 25]. Finally, future modeling efforts will involve approaches that include measures of uncertainty in parameter estimates, including Bayesian methods [26, 27] and likelihood and other methods [28, 29].
Conclusions
The first main conclusion of this work was that exponential growth was somewhat empirically related to seasonal epidemic characteristics. The variations in epidemic seasons from data collected at PCMC during the seven years of the study can be partially explained by the variation in exponential growth, especially characteristics of epidemic size, peak day, and length of the epidemic. The seven years of data were not sufficient to make conclusive statements on the nature of the relationships. These early findings based on just seven data points can be built upon to explore early prediction of the upcoming RSV epidemic season. These early predictions could be used by hospitals to budget and allocate resources and to coordinate the timing of palivizumab treatment. They can be used by public health to advise clinicians and the public and also to help identify non-standard epidemics earlier in the season. For example, health departments might take specific actions if the number of observed cases during the season greatly exceeds early predictions.
The second main conclusion of this work was that variation of the transmission parameter and the start of the epidemic (offset) over epidemic years could explain the variation in seasonal epidemic size. The three model parameters allowed to vary by epidemic year (detection fraction, transmission parameter, and offset) provided possible rationale for the variation in seasonal epidemic size. The model with detection fraction held constant across epidemic year fits the observed data well with the fewest parameters. The parameter estimates from this model also match the expected biennial pattern of the epidemic years. From the models considered in this study, this one performs best overall (Figure
4
).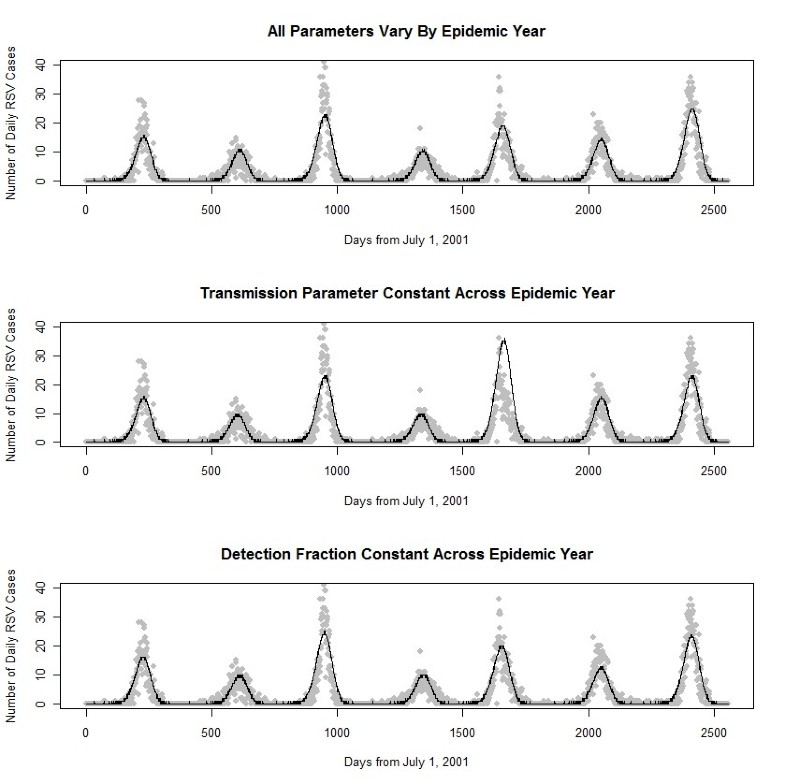 Declarations
Acknowledgements
Partial support for this work was provided by the Public Health Services research grant UL1-RR025764 from the National Center for Research Resources, NIH/NIAID1 U01 AI074419 and U01-A1061611, US CDC #1 PO1 CD000284, and the NIH/Eunice Kennedy Shriver NICHD K24- HD047249.
Authors' Affiliations
(1)
Division of Epidemiology, University of Utah School of Medicine, Salt Lake City, USA
(2)
Department of Pediatrics, University of Utah School of Medicine, Salt Lake City, USA
(3)
Division of Disease Control and Prevention, Utah Department of Health, Salt Lake City, USA
Copyright
© Leecaster et al; licensee BioMed Central Ltd. 2011
This article is published under license to BioMed Central Ltd. This is an Open Access article distributed under the terms of the Creative Commons Attribution License (http://creativecommons.org/licenses/by/2.0), which permits unrestricted use, distribution, and reproduction in any medium, provided the original work is properly cited.