Research article

Open Access

Open Peer Review
This article has Open Peer Review reports available.
Microbicide excipients can greatly increase susceptibility to genital herpes transmission in the mouse
BMC Infectious Diseases
2010
10:331
Received: 31 March 2010
Accepted: 18 November 2010
Published: 18 November 2010
Abstract
Background
Several active ingredients proposed as vaginal microbicides have been shown paradoxically to increase susceptibility to infection in mouse genital herpes (HSV-2) vaginal susceptibility models and in clinical trials. In addition, "inactive ingredients" (or excipients) used in topical products to formulate and deliver the active ingredient might also cause epithelial toxicities that increase viral susceptibility. However, excipients have not previously been tested in susceptibility models.
Methods
Excipients commonly used in topical products were formulated in a non-toxic vehicle (the "HEC universal placebo"), or other formulations as specified. Twelve hours after exposure to the excipient or a control treatment, mice were challenged with a vaginal dose of HSV-2, and three days later were assessed for infection by vaginal lavage culture to assess susceptibility.
Results
The following excipients markedly increased susceptibility to HSV-2 after a single exposure: 5% glycerol monolaurate (GML) formulated in K-Y® Warming Jelly, 5% GML as a colloidal suspension in phosphate buffered saline, K-Y Warming Jelly alone, and both of its humectant/solvent ingredients (neat propylene glycol and neat PEG-8). For excipients formulated in the HEC vehicle, 30% glycerin significantly increased susceptibility, and a trend toward increased HSV-2 susceptibility was observed after 10% glycerin, and 0.1% disodium EDTA, but not after 0.0186% disodium EDTA. The following excipients did not increase susceptibility: 10% propylene glycol, 0.18%, methylparaben plus 0.02% propylparaben, and 1% benzyl alcohol.
Conclusions
As reported with other surfactants, the surfactant/emulsifier GML markedly increased susceptibility to HSV-2. Glycerin at 30% significantly increased susceptibility, and, undiluted propylene glycol and PEG-8 greatly increased susceptibility.
Keywords
Propylene Glycol
Benzyl Alcohol
Genital Herpes
Columnar Epithelium
Sorbic Acid
Background
Topically administered microbicides are placed in the vagina or rectum where they are intended to prevent infections by blocking pathogens before or soon after entry, advantageously reducing systemic exposures inherent with oral dosing. However, topical application places microbicide formulations at sites where they risk altering epithelial barrier function. Indeed several microbicide Phase III trials have reported strong trends toward or significant increases in HIV infection in the active microbicide arms [1–4].
The intact cervicovaginal epithelium provides a substantial barrier against HIV infection. The rate of heterosexual male to female HIV transmission reported in a comprehensive review averaged about 1 in 1250 acts; even during the highly infectious stage immediately after HIV acquisition in the male partner the rate averaged less than 1 in 100 acts [5]. In both the SIV macaque and the FIV macaque models, 10,000 times more virus was required for infection via vaginal challenge than via parenteral challenge [6, 7]. It follows that a topical microbicide that compromises this normally potent cervicovaginal barrier could substantially increase susceptibility to HIV or other pathogens.
Traditional safety assessments of topical agents have relied on gross, microscopic, or colposcopic examinations of exposed tissue in animal and clinical studies to detect and quantify tissue damage and inflammation. Recently, more sensitive assessments of microbicide-induced inflammation have been described employing measurement of soluble cytokines [8], and by immunohistochemical staining of tissue inflammatory markers [9]. The slug mucosal irritation assay has been developed as a rapid and quantitative screening test to assess the irritative potential of agents applied to mucosal surfaces [10, 11], and to assess diverse topical products and their ingredients. While valuable, both the traditional and these more recent methods assess surrogate markers rather than directly testing for toxicities that increase susceptibility to pathogen transmission, arguably the most dangerous of potential microbicide toxicities.
We developed a mouse model that directly determines whether microbicides cause, by any mechanism, toxicity that increases the susceptibility of the vagina to the viral STI pathogen HSV-2 [12]. We found that a single exposures to the candidate microbicides nonoxynol-9 and C31G caused a marked increase in susceptibility to HSV-2, concordant with the increased susceptibility to HIV with nonoxynol-9 observed in a Phase III clinical microbicide trial [2], and a trend toward increased transmission in a Phase III trial of C31G [3]. A similar model has been reported, extending the evaluation to include repeated test agent exposures, and likewise demonstrated increased susceptibility to HSV-2 after multiple nonoxynol-9 exposures [13]. Exposure to cellulose sulfate was recently reported to increase susceptibility to HSV-2 in this multiple-exposure model [14], concordant with the results of the per protocol analysis of Phase III trial where cellulose sulfate was associated with a significantly increased transmission of HIV [4]. These results support the utility of these mouse HSV-2 susceptibility models for predicting microbicide-induced toxicities that increase HIV susceptibility in women.
Certain active pharmaceutical ingredients (APIs) such as nonoxynol-9 have been shown to damage the epithelial barrier in traditional animal and clinical studies [15], and nearly all safety testing has focused exclusively on detecting toxicities of microbicide APIs. Indeed, a commonly used study design has been to compare the active product to a vehicle control (an identical formulation minus the API), based on the belief that excipients are nontoxic. However, this standard 'vehicle control' study design inherently precludes detecting toxic effects of the vehicle that might increase susceptibility to infection. Although excipients are often called "inactive ingredients" and are widely considered to be benign, these ingredients do have activities and toxicities, and none of the excipients employed in microbicide development and widely used in sexual lubricants or other vaginal products have been tested in a manner that would disclose whether or not they alter barrier functions or otherwise increase HIV/STI susceptibility at mucosal surfaces.
Methods
Excipients and other materials
Propylparaben, methylparaben, sorbic acid, benzyl alcohol, EDTA disodium dihydrate, glycerin, propylene glycol, and PEG-8 (polyethylene glycol, monomer number = 8, formula weight = 400 Daltons) were U.S.P. or N.F. grades from Spectrum Chemicals & Laboratory Products, Gardena, CA. Hydroxyethylcellulose (HEC, NATROSOL®, 250HX PHARM), was from Hercules Incorporated, Wilmington, DE. Bartels® Tissue Culture Refeeding Medium was from Trinity Biotech, St. Louis, MO. Sodium chloride was from Fisher Scientific, Fair Lawn, NJ. Phosphate buffered saline (PBS, Dulbecco's phosphate buffered saline) was from Sigma Aldrich, St. Louis, MO. K-Y® Warming Jelly/Gelle was from Johnson & Johnson Consumer Companies Inc, Skillman NJ. Glycerol monolaurate (GML, Monomuls 90-L 12) was from Cognis Corporation, Cincinnati, OH. Medroxyprogesterone acetate injectable suspension, USP was from Sicor Pharmaceuticals, Inc. Irvine, CA.
Virus
HSV-2 Strain G (ATCC #VR-734, 2.8 × 107 TCID50 per mL, was from American Type Culture Collection, Manassas, VA), and was aliquoted and stored at- 85°C until thawed for use. When thawed aliquots of this stock were diluted 100-fold with Bartels medium, a 10 μL vaginal dose infected ~50% of the control animals (1 intravaginal infectious dose50, or ID50).
Cell lines
Human foreskin fibroblasts in 96-well plates were from Diagnostic Hybrids Inc. Athens, OH.
Animals
Female Hsd:NSA ™(CF-1®) out bred mice were 6-8 weeks old when obtained from Harlan Laboratories, Indianapolis, IN, and were 7-12 weeks old at the time of the studies. These mice were easily handled and no anesthesia was used to deliver the test agents vaginally.
Preparation of formulations
The HEC "universal" placebo gel formulation (HEC placebo) [16, 17], currently being used extensively in microbicide trials [18], was used as a vehicle to which compatible excipients were added for tests in the susceptibility model. The HEC placebo gel formulation contains 2.7% HEC as the gel-forming polymer, 0.85% sodium chloride for tonicity adjustment, 0.1% sorbic acid as a preservative, and sodium hydroxide q.s. to pH 4.4. All percentages were % w/w.
Sorbic acid was omitted in gels formulated for testing of alternative preservatives. GML was formulated as a 5% (w/w) solution in K-Y Warming Jelly (KYWJ), as described in publications assessing GML as a vaginal microbicide [19, 20]. To study GML (an agent with limited aqueous solubility in water) in a formulation lacking the extreme hyperosmolality of KYWJ, a colloidal suspension of 5% (w/v) GML in PBS was prepared by stirring GML in PBS with a magnetic stirrer at 50°C for one hour, and maintaining it at 37°C until vaginal administration within 3 hours of preparation, with restirring immediately before administration. Microscopic examination showed this preparation to be a colloidal suspension of ~25 micron diameter GML spherical globules, which remained stable in size for at least 6 hours at 37°C. Concentrations of other excipients were chosen to span substantial portions of the range of concentrations used in vaginal or other topical formulations [21]. The humectant/solvents of KYWJ were tested neat to determine their individual effects at extremely high osmolalities similar to that of the parent KYWJ formulation.
Osmolality measurements
Osmolality was measured with a vapor pressure osmometer (VAPRO™ Model 5220 Wescor Inc., Logan, UT). For agents or formulations with osmolality above the range of the instrument (GML in KYWJ, KYWJ, PEG-8, and propylene glycol), the osmolality was estimated by linear extrapolation of a 1:3 (v/v) dilution of the product with distilled water.
Dose-response relationship
To obtain the dose-response relationship, thawed aliquots of HSV-2 stock were diluted sequentially to determine the fraction of mice infected as a function of viral intravaginal dose to cover the range from 0.1 ID50 to 10 ID50.
HSV-2 susceptibility model
The procedures were as previously described in detail [12]. Briefly, female 7-12 week old CF-1 mice were injected subcutaneously with 2.5 mg of medroxyprogesterone acetate, and one week later received 20 μL of test agent or PBS control intravaginally with a fire-polished positive displacement capillary pipette (Wiretrol®, Drummond Scientific, Broomall, PA). Twelve hours later, mice were challenged with a 10 μL inoculum containing 1 or 0.1 ID50 of HSV-2 in Bartels medium as specified below. Mice were assessed for infection three days after inoculation by culturing a PBS vaginal lavage on human foreskin fibroblasts. Prior studies have demonstrated that viral isolation gives very similar but slightly more sensitive detection of infection than assessing HSV-2 disease (visible lesions) [22].
Statistical analysis
Data were analyzed by two-sided Fisher's exact test comparing the number of animals infected after exposure to the test agent vs. the number of control animals infected after exposure to PBS using equal size groups of test and control animals. For agents that showed a significant increase in susceptibility, the increase in susceptibility was calculated as the effective infectious dose read from the dose response curve (Figure
1
) divided by the infectious dose of the same inoculum in the control animals. Sample size calculations were by standard methods, with an incorporated continuity correction [
23
], using proportions calculated from the dose-response curve.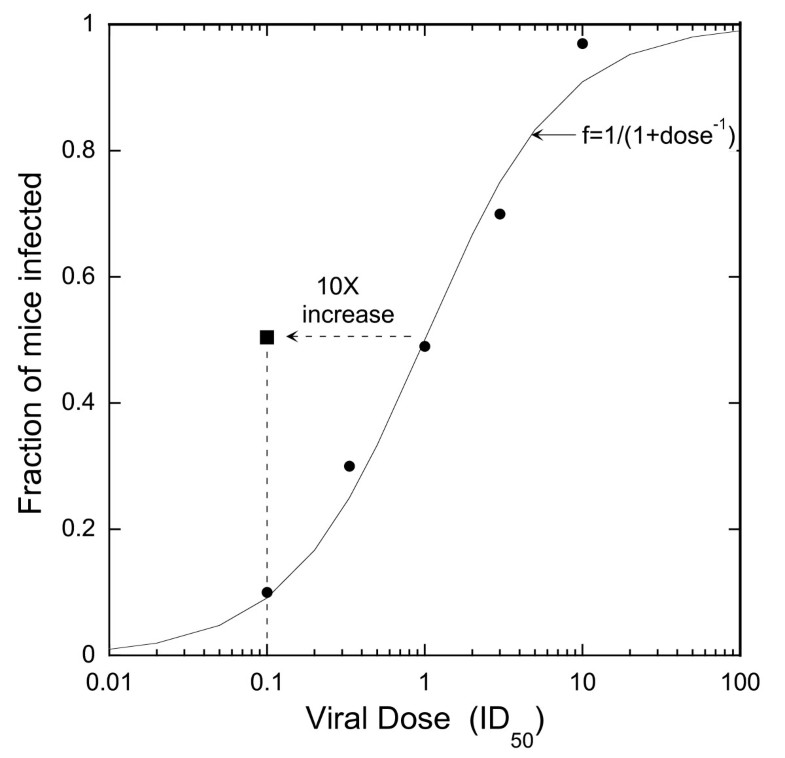 Conclusions
Increased susceptibility caused by a candidate microbicide or excipient in this and similar animal models cautions against its advancement to clinical trials. Our results specifically caution against the use of KYWJ as a vehicle, glycerin at or above 30%, or high concentrations of PEG-8 or propylene glycol as excipients, and GML as an excipient or API. Although not significant, the trends toward harm with 0.1% disodium EDTA and 10% glycerin also argues for caution at or above these concentrations in microbicide or other vaginal formulations. Conversely, our results are reassuring regarding the suitability of the lower dose disodium EDTA and the other preservatives and humectants at the concentrations tested.
Declarations
Acknowledgements
TRM, RJM, TEH, MS, and RAC were all supported in part by NIH Program Project U19 AI60598. GML was provided by Cognis Corporation, Cincinnati, OH.
Authors' Affiliations
(1)
ReProtect, Inc, Baltimore, USA
(2)
Division of Molecular Pharmaceutics and the Center for Nanotechnology in Drug Delivery, UNC Eshelman School of Pharmacy, University of North Carolina at Chapel Hill, Chapel Hill, USA
(3)
Johns Hopkins University, Baltimore, USA
Copyright
© Moench et al; licensee BioMed Central Ltd. 2010
This article is published under license to BioMed Central Ltd. This is an Open Access article distributed under the terms of the Creative Commons Attribution License (http://creativecommons.org/licenses/by/2.0), which permits unrestricted use, distribution, and reproduction in any medium, provided the original work is properly cited.