Research article

Open Access

Open Peer Review
This article has Open Peer Review reports available.
Contingency planning for a deliberate release of smallpox in Great Britain - the role of geographical scale and contact structure
BMC Infectious Diseases
2010
10:25
Received: 30 July 2009
Accepted: 14 February 2010
Published: 14 February 2010
Abstract
Background
In the event of a release of a pathogen such as smallpox, which is human-to-human transmissible and has high associated mortality, a key question is how best to deploy containment and control strategies. Given the general uncertainty surrounding this issue, mathematical modelling has played an important role in informing the likely optimal response, in particular defining the conditions under which mass-vaccination would be appropriate. In this paper, we consider two key questions currently unanswered in the literature: firstly, what is the optimal spatial scale for intervention; and secondly, how sensitive are results to the modelling assumptions made about the pattern of human contacts?
Methods
Here we develop a novel mathematical model for smallpox that incorporates both information on individual contact structure (which is important if the effects of contact tracing are to be captured accurately) and large-scale patterns of movement across a range of spatial scales in Great Britain.
Results
Analysis of this model confirms previous work suggesting that a locally targeted 'ring' vaccination strategy is optimal, and that this conclusion is actually quite robust for different socio-demographic and epidemiological assumptions.
Conclusions
Our method allows for intuitive understanding of the reasons why national mass vaccination is typically predicted to be suboptimal. As such, we present a general framework for fast calculation of expected outcomes during the attempted control of diverse emerging infections; this is particularly important given that parameters would need to be interactively estimated and modelled in any release scenario.
Keywords
Cluster Coefficient
Reproduction Number
Contact Structure
Smallpox
Contact Network
Background
Stopping transmission of the smallpox (variola) virus amongst the human population was one of the greatest public health triumphs of the twentieth century; and yet since the events of 11 September 2001 the possibility of its reemergence has been under increased study [1]. Effective contingency planning for such a scenario requires knowledge of the optimal deployment and use of case isolation, contact tracing and vaccination. Since a series of controlled experiments to inform such decisions is not possible, we are forced to rely on mathematical modelling to improve the evidence base for emergency preparedness and response. Recent simulation models [2–5] typically conclude that, provided a given smallpox outbreak can be well controlled, the emphasis should be on case isolation, contact tracing and targeted vaccination rather than immediate country-level mass vaccination, due to the frequency of adverse effects from vaccine and the likely high efficacy of other measures. Targeting of vaccination can either be exclusively towards suspected cases found by contact tracing, or can also involve a policy of local 'ring vaccination' of the population in the vicinity known cases. Evidence exists that such ring vaccination may provide additional benefit over individually targeted measures [5]. However, two questions remain and form the main considerations of this paper: the exact conditions for which ring vaccination is optimal, and the scale at which such vaccination should take place--in particular we focus on the interaction between ring vaccination and contact tracing in a clustered network of contacts.
When considering optimal ring vaccination in any epidemiological context, the key issue is the spatial scale for intervention. This presents a technical challenge, since spatial models of disease transmission are typically much more complex than non-spatial models. Local vaccination is also not applied in isolation, but is deployed together with other control measures that must be captured by the model. One of the most widely used additional measures is contact tracing, which seeks to identify infected individuals before they become fully symptomatic by tracing the contacts (and therefore potential secondary cases) from each identified case. Theoretical work shows that failure to account for the underlying structure of the contact network when considering contact tracing can cause severe, qualitative errors in model results [6]. We therefore find that our model choice is constrained by the epidemiology, dynamics, and types of control measure that we wish to capture.
Three main model types have been used to investigate the spread and control of smallpox [7]. Mean-field models [[8], §8.3] have the advantage of being a relatively tractable set of differential equations, but suffer from the underlying assumption that transmission occurs at random within the entire population. Metapopulation models [5] are based on the observation that most infectious individuals create the majority of their secondary cases within their local environment; in these metapopulation models the population is therefore aggregated in local administration units with most transmission occurring within each unit and at random. Individual-based simulation models [2–4] are generally considered the most realistic and aim to capture the full contact structure between all individuals in the population, often assigning individuals to households, schools and workplaces where there is known to be a higher risk of transmission. Here we define a model that includes mixtures from all three of the above methods: it is based on differential equation and therefore is rapid to simulate allowing rigorous sensitivity analysis; it retains the metapopulation concept of local and longer-range transmission so can be used to consider regional (ring) vaccination; and it incorporates elements of local contact structure and can therefore reliably capture the effects of contact tracing.
Individual-based simulation can in principle incorporate any population structure and interventions necessary, and as such there will always be an important role in contingency planning for computationally intensive models that aim for maximum realism. Nevertheless, there are limitations to these approaches that motivate our methodology of developing a new, more parsimonious model. Most important for our purposes are the problems of parameterisation, numerical tractability and transparency. With such individual-based simulations there is always the temptation to include ever more complexity, however any model is necessarily a caricature of reality and so the quest for ever greater realism can never be fulfilled. While computers and algorithms continue to improve, increasing the number of individuals that can be directly simulated and decreasing the time to perform a simulation, considering the whole population of England, Wales and Scotland still involves significant computational resources. While baseline results can be obtained at these population sizes reasonably quickly, applications that require large number of model realisations such as comprehensive sensitivity analysis, real-time parameter fitting and determination of optimal strategies quickly become highly time-consuming. The development of models and methods to implement such applications remains necessary, however complementary approaches that are more abstract can significantly reduce the computational burden.
A model that incorporates synthetic data on individuals and their contacts almost by definition involves many more parameters than can be measured directly, and as such assumptions have to be made on the basis of available data. For example, if an explicit network is generated as in [9], then there is really a network parameter for every pair of individuals in the population modelled. Given the gap between available data on human contacts and the information contained in an explicit network, a complementary approach to individual-based simulation is to develop mathematical approaches that give epidemiological outputs based on statistical properties of contact networks. Such network properties can often be measured directly, and the uncertainty in them estimated systematically. One published methodology for this, applied to smallpox, is to use a branching-process model [10]. Such an approach does not, however, allow the consideration of clustering--the possibility that an individual's contacts also contact each other. Work not directly related to smallpox, based on pairwise models, has shown that clustering has a major impact on transmission and tracing dynamics [6, 11, 12]. This leads us to extend pairwise models to enable smallpox to be modelled whilst considering clustering. A thorough treatment of this methodology is available in [[8], Chapter 7] and [13].
Methods
For reasons explained in the introduction above, we chose a modelling approach that uses mathematical techniques to reduce the computational burden. This means that the underlying model has simple underlying assumptions and relatively few parameters, which we outline below, but ultimately rests on specialist mathematical results, which we have included in Additional file
1
. A full list of parameters, including references, is provided in Table
1
. Our model is structured around the pairwise approach to capture the natural history of infection and control, together with the metapopulation concept of rare external transmission outside of local spatial units.
Table 1
Model parameters, together with baseline value and range if varied during analysis.
| Parameter | Description | Value (Range) | Refs |
| --- | --- | --- | --- |
| g E | Rate of transition from latent to prodromal | 1/12 days-1 | [14] |
| g P | Rate of transition from prodromal to infectious | 1/2.5 days-1 | [15] |
| g I | Rate of transition from infectious to removed | 1/8.6 days-1 | [16] |
| δ | Case fatality risk | 30% | |
| θ | Probability of case isolation success | 90% | [21] |
| g Q | Rate of transition from isolated to removed | 1/20 days-1 | [5] |
| ϵ | Probability of contact tracing success | 80% | [5] |
| ϵ1 | Vaccine efficacy when susceptible | 97.5% | [14] |
| ϵ2 | Vaccine efficacy when latent | 30% | [23] |
| g O | Rate of transition from observed to removed or vaccinated | 1/15 days-1 | [5] |
| γ | Proportion of population contraindicated for mass vaccination | 30% | [25] |
| E 0 | Number of index cases | 10 | see text |
| | Number of index cases for secondary outbreak | 1 | see text |
| I trig | Number of clinical cases prior to detection | 4 | see text |
| | Number of clinical cases prior to detection for secondary outbreak | 1 | see text |
| δ V | Vaccine fatality risk | 10-5(0 -- 10-5) | [24] |
| R 0 | Basic reproductive ratio | 5 (3 -- 7) | [14] |
| R P | Prodromal type reproductive ratio | 0.5 (0.1 -- 1.5) | |
| κ | Movement reductions when infectious | 0.9 (0 -- 1) | [5] |
| v | Rate of mass vaccination | N/7 (see Figure 3(c)) | see text |
| N | Population size of region | 105(see Figure 3(a)) | |
| ξ | Region outwardness | 0.4 (see Figure 3(d)) | |
| M | Number of regions of same type as outbreak region | n/a (see Figure 3(a)) | |
| M 0 | Number of regions at relevant scale initially infected | 1 (1 -- 10) | see text |
| n | Neighbourhood size (contacts per individual) | 17 (5 -- 50) | |
| ϕ | Clustering coefficient | 0 (0 -- 0.5) | see text |
Results and Discussion
Temporal dynamics
The model's dynamical behaviour, for all default choices in Table
1
, is shown in Figure
4(a,b)
. The 'baseline' values of population size and outwardness are chosen for simple comparison with other published city-level and district-based models, which operate at a similar population size, but these parameters are varied everywhere else in our analysis. Figure
4(a)
shows a rise in symptomatic, prodromal and latent infection until case isolation and other interventions are implemented (at approximated 7 days), when the epidemic becomes controlled. However, even after these measures are implemented, the number of latent and isolated individuals continues to rise for several days or weeks. Figure
4(b)
shows the total escape probability rising monotonically over time, with a larger gradient at higher prevalence of infection, as would be expected.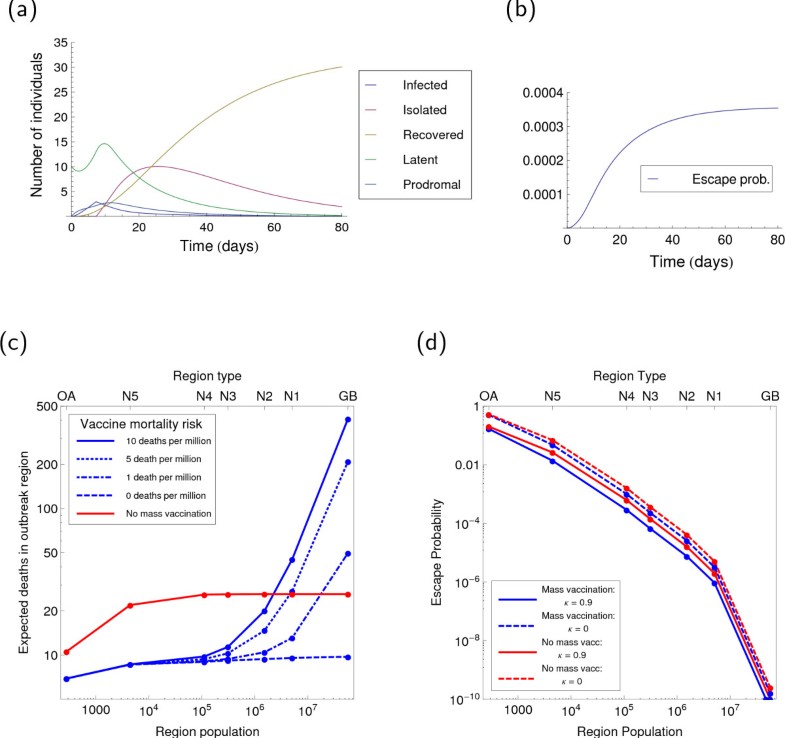 Spatial scale
Using the geographical framework discussed above, varying the vaccine mortality risk and mobility of fully symptomatic cases, but otherwise using the baseline parameters of Table 1, gives the results shown in Figure 4(c,d).
We find, as shown in Figure 4(c), that below a particular population size close to two million (if vaccine-induced mortality δ V is 10 deaths per million vaccinated) local mass vaccination is optimal, with the preferred spatial scale being defined such that there is reasonable confidence that all existing cases are contained at that scale. Above this critical population size, the number of vaccine-induced deaths becomes unacceptably large. Our conclusion is that, even if vaccine-induced mortality is significantly lower, for the small release considered here vaccination of the whole country is likely to be unnecessary given that vaccination at smaller spatial scales and more individually targeted approaches will have brought the epidemic under control.
In terms of escape of infection, Figure 4(d) shows that both the reduced mobility of symptomatic cases and local mass vaccination have a significant impact on final probability. While this is not plotted for clarity, increasing κ still further does not have a large effect. The dominant trend is, in any case, that the outwardness of a region is the main determining factor of magnitude of escape probability.
Parameter sensitivity
To assess the impact of various parameters on the model conclusions, we consider the population size (
N
≈ 2.4
×
10
6
) at which the expected number of deaths (given
δ
V
= 10
-5
) is the same both with and without local mass vaccination. Using the interpolations shown in Figure
3(c,d)
, we can then see how modification of a baseline parameter moves us away from the point at which both strategies are equivalent. The results from this analysis are shown for within-region deaths in Figure
5
and for escape probabilities in Additional file
1
.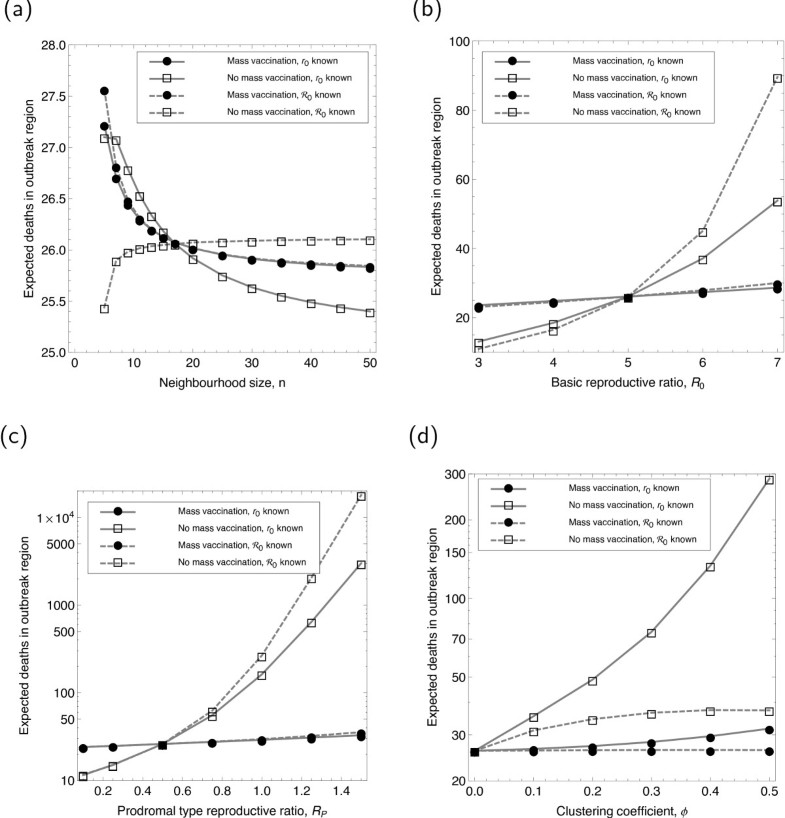 When examining sensitivity to parameter choices, it is important to consider which basic observables of the epidemic should be maintained while the parameters are varied. Here, we have decided to fix the basic reproductive ratio as this is undoubtedly the key observation from any epidemic. For example, as we vary the number of contacts, the transmission rate per contact is varied to compensate for this change. This is analogous to ensuring that all models are fit to the same early epidemic behaviour. One difficulty with fitting to the basic reproductive ratio is that it can be measured in two main ways: either directly by examining the contacts of each infected case, or indirectly by calculating the early growth rate of the epidemic. Unfortunately, for epidemics with complex natural histories and network-based transmission these two methods of calculating the basic reproductive ratio are not in direct agreement, and we therefore show two sets of results in which either measurement is held constant. To make this distinction clear, we denote an individually measured reproduction number ℛ0 and one inferred from early growth r 0.
We have found relatively small effects from varying the neighbourhood size n at constant R 0 (Figure 5(a)), although varying the reproductive ratio itself has the strong but predictable effect of favouring mass vaccination for larger values of R 0 (Figure 5(b)). What we find significantly more important is the amount of transmission during the prodromal phase of disease, parameterised by R P (Figure 5(c)). While this is highly unlikely to be over 1, a similar effect would be seen from a delay in isolation of infectious individuals, which can be shown in a general manner using threshold arguments [22]. Investigating the effects of clustering (Figure 5(d)) gives strong results, which are both subtle and counter-intuitive, although some theoretical progress has been made in understanding the impact of clustering on contact tracing [6]. In particular, we see in Figure 5(d) that whether R 0 has been estimated from early growth in prevalence or from contact-tracing data has a profound effect on the impact of clustering.
Optimisation and global sensitivity
The optimisation problem of minimising expected total mortality is addressed in Figure
6
. This figure shows the existence of a spatial cutoff above which mass vaccination causes excess total mortality for our baseline parameters in Figure
6(a)
. Figure
6(b)
, however, shows that for significantly 'worse' parameters--
R
0
= 7,
R
P
= 1.5,
ϕ
= 0.5--this conclusion can be reversed and no such cutoff is seen and mass vaccination is always optimal. Although we do not think such a scenario particularly likely, this points to the importance of real-time estimation in the event of an outbreak. On the other hand, the spatial cutoff scale is reduced for 'better' parameters--
R
0
= 3,
R
P
= 0.1,
ϕ
= 0--as shown in Figure
6(c)
. When we consider the 'dispersed' assumption in Figure
6(d)
, delayed intervention causes a generally more severe outbreak but does not in itself remove the existence of a population size above which mass vaccination is suboptimal. Since the dispersed scenario has no interpretation when applied to the whole of Great Britain, we simply duplicate the NUTS1 result at this point.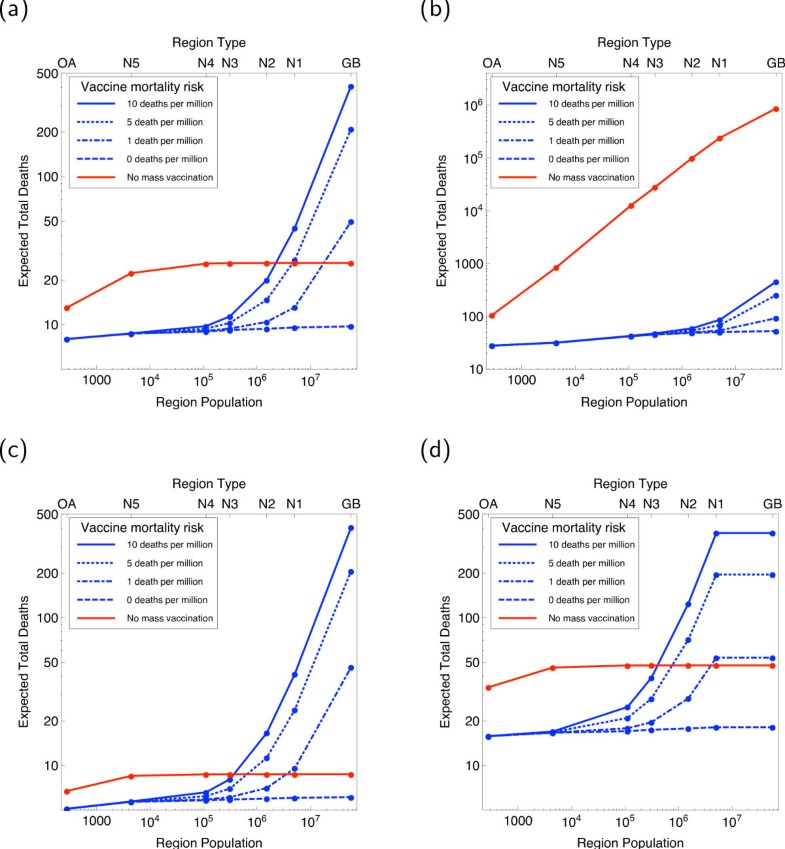 Parameters not varied
There are a large number of tasks for realistic, informative smallpox modelling, and our particular focus has been on outbreak severity, the impact of contact-network structure, spatial scale and level of undetected transmission. It is worth considering briefly the likely impact of two other extensions to simple models known to be important for general policy conclusions.
Firstly, we have assumed simple rates of transmission between infectious states rather than a more sophisticated class-age structure. Our methodology allows for the inclusion of extra realism of this form through the method of stages, where clinically distinct disease states are broken down into additional sub-compartments. This brings significant extra computational overheads, however when considering a binary choice about vaccination the current understanding of such realism is that it should not qualitatively modify our results, and would be most important if our approach were extended to an accurate system of real-time estimation.
Secondly, we have assumed homogeneity at the individual level, while risks of death, mixing patterns and spatial location are likely to be highly heterogeneous. Again, given that we were only considering mean behaviour of the system this does not invalidate our approach, but would be important if policy decisions needed to be calibrated to 'reasonable worst case' rather than expected outcomes.
Conclusions
In dealing with the optimisation of public-health response to deliberate release of smallpox, we are considering a highly complicated system that is not directly amenable to experimental testing. This means that there will always be a degree of uncertainty associated with conclusions presented, however strongly these manifest themselves in a model.
Despite this general caveat, investigation of the problem for Great Britain suggests that, for a wide variety of parameter choices, and with differing modelling approaches, a vaccination strategy that involves a wider section of the population than the traced contacts of isolated cases but one that stops short of vaccinating the whole country is likely to be optimal. Such a conclusion is, we believe, likely to be robust in the event of a relatively small initial outbreak and given our best estimates of the contagiousness and natural history of variola. It could be overturned for a particularly virulent or large outbreak, however similar measures were taken during the eradication programme and were effective in controlling historical outbreaks [32]. Additionally, a larger outbreak may be observed sooner, leading to earlier detection and isolation of cases. Another key message is that delays in case isolation, or equivalently more transmission in the prodromal phase than was previously observed, are extremely significant, and that slow response has the potential to present the most significant barrier to the efficacy of non-pharmaceutical interventions. Conversely, there are significant advantages to faster case isolation and treatment.
We have generalised on previous work in two main ways. Firstly, we have extended the treatment of contact networks to include the realistic assumption of clustering, which has an extremely important impact on the efficacy of contact tracing. However, the measurement of even basic quantities like the clustering coefficient ϕ for epidemiologically relevant contacts has yet to be attempted at a large geographical scale, particularly in non-household contexts, and we suggest that this could be an important measurement to make given its substantial effect on predicted outcomes.
Secondly, we have considered human movement patterns across a full range of geographical scales, enabling the calculation of an optimal scale for intervention. Furthermore, the techniques in this paper can be used to analyse situations where the numbers people leaving an area are inferable but the full region to region 'commuting' behaviour is unknown. As such this could be applied to other countries that don't collect detailed workplace location information in their census programmes.
There are many further generalisations of our work that could be considered, which would be of use regarding a response to a wide variety of emerging infectious agents. In particular, the inclusion of higher-order clusters in human contact networks, such as households, workplaces and social groups, is likely to be of significant importance. Also likely to be significant is the modification of 'baseline' patterns of movement and social interaction in response to perceived risk of infection. Consideration should also be made of the logistical constraints on local- and national-scale policies. We hope that the current work presents a useful foundation for the consideration of these and other questions.
Declarations
Acknowledgements
This work was funded by the Department of Health for England and the Home Office Counter Terrorism and Intelligence Directorate through the Health Protection Agency, and also by the UK Medical Research Council (Grant Number G0701256). We would like to thank Joseph Egan, Steve Leach, Judith Legrand and Neil Ferguson for helpful discussions in project meetings during the preparation of these results.
Authors' Affiliations
(1)
Warwick Mathematics Institute and Department of Biological Sciences, University of Warwick, Coventry, UK
(2)
Microbial Risk Assessment, Health Protection Agency, Emergency Response Department, Wiltshire, UK
Copyright
© House et al; licensee BioMed Central Ltd. 2010
This article is published under license to BioMed Central Ltd. This is an Open Access article distributed under the terms of the Creative Commons Attribution License (http://creativecommons.org/licenses/by/2.0), which permits unrestricted use, distribution, and reproduction in any medium, provided the original work is properly cited.